Mirror/Mirror Episodes
How to Wear Fall's Rocker Chic Fashion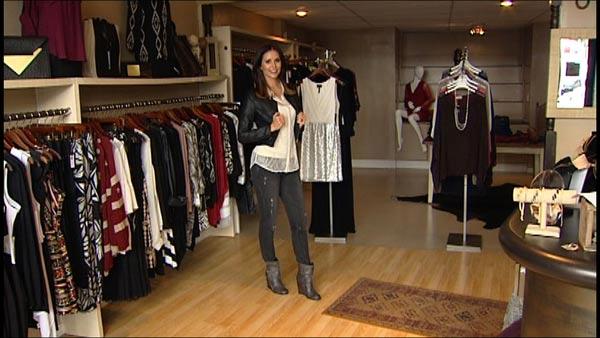 Want to wear this season's trend of rocker chic? Our five fashionistas show you how to get this fall's hottest style.
Here's how some of our favorite fashionistas "rock" this trend:
Outfit # 1: Magen Pasto
Image consultant and lifestyle blogger Magen Pasto says think of the rocker chic look as edgy, but put together. Here's how she put together her outfit: 1. She starts with a leather dress from French Connection that cinches at the waist and pulls the eye toward the smallest part of the body. 2. She layers on a leather jacket that pairs well with anything -- a great closet staple! 3. To break up the solid colored dress, she accessorizes with a burgandy belt. 4. She chooses a cream clutch to break up the darkness of the outfit. 5. Lastly, she pairs booties that are chic but still edgy, and an oversized hat that tops off the look.
Outfit # 2: Karli Gillum
Peronal stylist and blogger Karli Gillum says rocker chic is the epitome of stylish ease. "It says, 'I'm cool and I don't even have to try,'" says Karli. Here's how she put together her look: 1. She starts with a classic motorcycle jacket -- perfect for this season. 2. She adds distressed jeans from Free People for a comfortable, casual edge. 3. She adds moto boots with a wedge heel, which give a bit of height with comfort. 4. A lace blouse underneath softens the look a bit.
Outfit # 3: Nikki Washington
Stylist and fashion blogger Nikki Washington says a great way to bring rocker chic to your outfit is to mix your metals. Pair silver and gold together in your accessories. She put together her look with these easy steps: 1. She goes for a motorcycle vest and lots of metal details like silver studs on her vest, gold necklaces, and gold-studded boots. 2. Next she adds a black flowy blouse. 3. Because of the large, structured vest and flowy blouse, Nikki chooses a narrow silhouette on the bottom -- jeggings!
Outfit # 4: Andrea Bonner
Fashion stylist Andrea Bonner says she thinks sexy and rebellious when trying to embody this trend. Here's how she put together her look: 1. She starts with a perforated leather jacket and matching skirt in a black and navy combo. They're two classic colors that look great together, despite fashion rules! 2. Because she likes a classier approach to Rocker Chic, she chooses a few simple, but edgy accessories -- like a spiked bracelet, earrings and chain. 3. She tops it off with a peep-toe bootie with the exposed zipper because the leather and metal combo adds edge to the whole ensemble.
Outfit # 5: Donae Chramosta
Donae Chramosta of The Vintage Contessa loves this fall's rocker chic trend and showed us how to make it glamorous: 1. Donae starts with a basic black dress and then layers with a sequin jacket, studded shoes, and interesting accessories. 2. Her key talking piece: a vintage cigarette case that's been designed into a cell phone holder. It also acts as a necklace! For more from Magen Pastor, visit
magenpastor.com.
Clothes by
French Connection.
For more from Karli Gillum, visit
fashionbillie.com.
Clothes from
Hemline.
For more from Nikki Washington, visit
styletoenvy.com.
Clothes from
bevello.com.
Fo more from Andrea Bonner, visit
styleondemand.com.
Location credit:
Melissa Greggs of Jenise Gregg Couture.
For more from Donae Chramosta, visit
vintagecontessa.com.