Mirror/Mirror Episodes
How to Stay Fit and Healthy During Pregnancy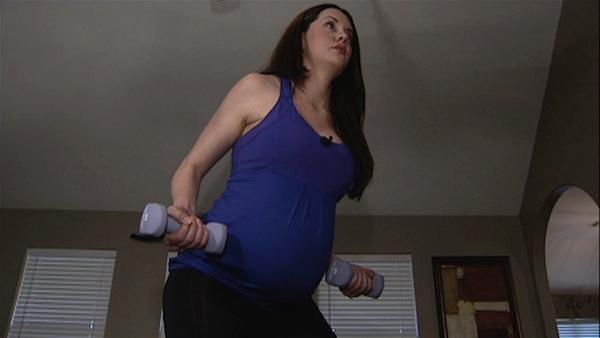 If you want to stay fit while you're expecting, here's great advice from a fitness model who's putting on pregnancy weight the healthy way. Learn how she's exercising and eating for a healthy, fit pregnancy.
Kelsey Byers changed her life by going from overweight to a fitness model. Now, she's putting on a different kind of weight - baby weight - and she's doing it the healthy way. Kelsey and her husband, Kent, have made a lifestyle out of being fit. After seven years of marriage, they decided it was time to go from healthy couple to healthy family! "So, early on, I had to have this mental pep talk with myself. 'Yes, Kelsey, you are going to gain weight, but it's your decision. Is it going to be healthy weight or is it going to be junk weight?'" Kelsey recalls. She eats every three hours. That's five to seven meals a day that consist of lean protein, complex carbs, fruits, and vegetables. She also adds foods to her diet during pregnancy. "It is recommended that we consume about 1,000 mg of calcium a day," she says. So, she looks for nonfat milk with low sugar. While some people try to stay away from bread, Kelsey recommends that women who are expecting eat some bread. "Bread has a good amount of fiber intake. I believe we need about 20-35 grams of fiber a day. That just keeps everything regular," she says. Kelsey also loves oatmeal and eggs. "In that first trimester, eat as healthy as possible, but if you're sick, you have to see how you feel. In your second trimester, I would recommend upping your calories about 300 calories a day," says Kelsey. "Everybody likes to tell you 'You're eating for two. Eat whatever you want. Enjoy your pregnancy.' I feel like you can enjoy your pregnancy and stay fit and healthy so you don't hate yourself or hate your body when your little one arrives," she says. "For the third trimester, my nutritionist advised me to increase my calories by about 400 calories per day, so basically I'm just eating an extra snack or an extra meal per day," she says. She says it's also important to stay active a few days a week. "For the second trimester, I would honestly just recommend working out when you feel like it. I feel like through my pregnancy I am less likely to put off my workouts because I know, 'Hey, I might not feel good tomorrow. I've got to get this done now,'" she says. What kinds of exercise are okay during pregnancy? If you did it before you were pregnant, it's safe to do during pregnancy, says Kelsey. Kelsey says she lowers her weight and ups her reps when she works out. On low energy days, you can have a seat and perform upper body in a chair. Just be sure you have your doctor's approval on any diet and exercise changes first. Some of Kelsey's favorite moves:
Dumbbell squat with shoulder press
Alternating lunges with a bicep curl
Sumo squat with an upright row
Dead lifts "I've gained about 25 to 27 pounds and here I am nine months pregnant. That's crazy to me because I gained 50 pounds in college," she says. For more from Kelsey, visit
kelseybyersfitness.com.