Mirror/Mirror Episodes
How to Apply Eye Liner Like an Expert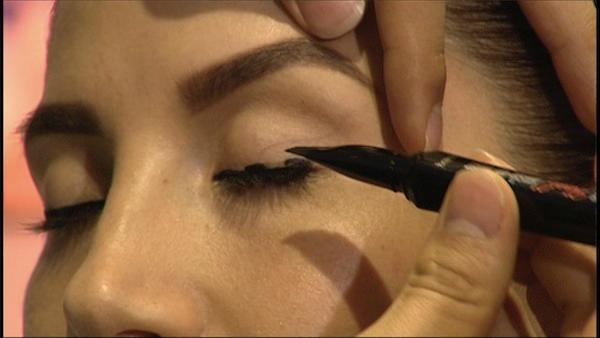 One of the biggest beauty dilemmas women have is lining their eyes. But a new fool-proof eyeliner, along with these expert tips, will help you get these great looks for your own eyes.
Benefit Makeup Master Josť Rivera says there are so many women who tremble at the thought of eyeliner because there's so much that can go wrong. So, he's showing off tips and tricks for expert-looking liner using what is, in his opinion, the most goof-proof eyeliner on the market: Benefit They're Real Push Up Liner.
DIY Eyeliner Look 1: "High and Tight"
This look is the perfect every day look for the gal who has trouble getting a smooth consistent line. 1. Lift the lid high in the arch of the brow using one finger.
2. Then gently stretch the lid tight from the outer corner using a second finger.
3. Doing this will allow you to hug the liner super close to the lashes resulting in a smooth defined line for bigger, sexier eyes. Jose's Tip: What's key for a natural eyeliner look is using matte black. Complete the look with brow volumizer, like Gimme Brow.
DIY Eyeliner Look 2: "Bold and Girly Glam"
This is an easy look to transition from a work day at the office to an evening out. You want to build on the previous technique. 1. The secret is stamping, or making three dashes close to the lash line.
2. For the outer and inner dashes, apply the dot thinner. For the middle stamp, go about two dashes thick.
3. Connect the stamps, or dashes. Doing this will give you symmetry, which is a time-saver, and connecting sections is much easier than trying to get the exact same line on both sides right from the start.
4. Complete the look and add a bit of drama by enhancing your lashes with something like Benefit's They're Real mascara and giving your cheeks a soft, sexy flush with Benetint.
DIY Eyeliner Look 3: "The Benefit Blinged Out Wing"
An easy way to create super-sexy winged eyeliner for evening.The key is a base line and swoop up and away technique. 1. Start with the look you created above.
2. Line up the pen with the tip of your nose and lower lash line. Base-line by gently making a mark on the outer corner of your lid. 3. Use the High and Tight technique above to connect that dot back to the line you already made.
4. Fill in the shape you created to finish off this signature look. Jose's Tip: Rather than closing and squinting your eyes, open your eyes. Complete the look with bright and luminous skin. A highlighter like Watts Up can turn up the wattage on your look. Sculpt cheeks with Hoola and add Benetint stained red lips. For more from Benefit, visit
BenefitCosmetics.com.
where you can find
They're Real Push Up Liner.
Special thanks to
Macy's.