Mirror/Mirror Episodes
Hex Nut Jewelry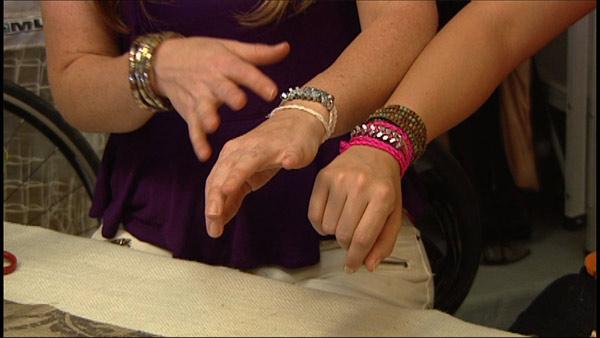 You can find them cheap at the hardware store, but you can also use them to make your own jewelry. Here's why you'll be nuts for hex nuts!
Lifestyle expert Kristen Hilyard shows us how to do two fun DIY jewelry projects using hex nuts.
Hex Nut Charm
Pick out your hex nuts and make your design. Use gold or silver and any sizes you want for your design.
Glue the sides of your hex nuts together into the shape you want. Kristen likes E3600 glue.
Let your design dry.
Attach one large jump ring to each side of your design and attach a chain to the jump rings, long enough to be a necklace or bracelet.
Attach a clasp, if needed.
Braided Hex Nut Wrap Bracelet
Cut three very long pieces of twine, thin rope, or thick string.
Make sure the ends are even and tie a knot in one end.
Attach the strings to a stable surface with a safety pin or tape.
Braid the strings half-way down.
Then, lace one hex nut on center string then cross over like you would braid regularly.
Lace another hex nut on the center and cross over.
Keep going until you have the width you want.
Finish braiding the strings without adding any more hex nuts.
Tie off the end.
More information on Kristen Hilyard visit
www.kristenjoy.com
.