Mirror/Mirror Episodes
Help for Thinning Hair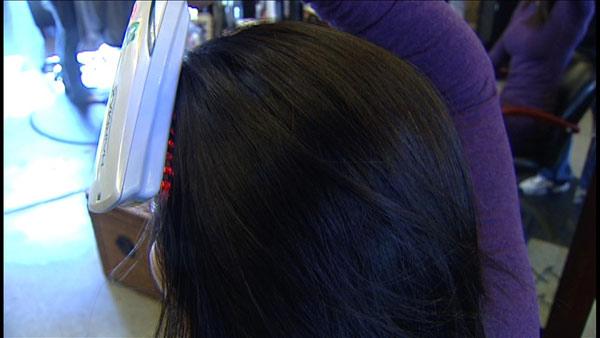 Is losing your hair making you lose sleep? Try these hair growing and hair thickening solutions!
"Hair loss is a real issue. About 35-million women in America suffer from some sort of hair loss," says salon owner Rachel Gower.
Whether it's from life changes, stress, an illness or genetics, it obviously affects men as well.
"With women it's more emotional. With men I think there's a little bit of pride involved. But in either case, it's still hard to face," says salon owner Tamika Fletcher.
So, Rachel and Tamika offer these possible means to rejuvenate hair growth.
Internal Factors
- Diet
- Vitamins (add multi-mineral, biotin, essential fatty acids and pre-combined hair/skin/nail formulas to your regimen with a doctor's consent)
Topical Treatments(either vitamin-based or minoxidil-based)
- Favorite line system is called Revita System, from DS Laboratories

Revita System will help with general hair loss and scalp health
If you need an extra boost, there are three serums to choose from


Spectral RS (moderate), for people with evenly distributed hair loss, as well as anyone pregnant, nursing, or taking high blood pressure medicine
Spectral DNC (more aggressive, contains minoxidil), for a men beginning to lose their hair or womenn further in the process
Spectral DNC-L (extremely aggressive), for men with total or almost-total hair loss, wakes up the hair follicles to regrow hair

- If you have fine hair and are experiencing some hair loss due to stress, you might want to start with Nioxin (shampoo, conditioner, serum, or in-salon treatment)
Electronic Treatments
- Low-Light Laser Therapy ($200 to $300 per month, in salons)
-HairMax Laser Comb ($545, use at home)
Volumizing Styling Products - Biotin B-Complex Thickening Shampoo and Conditioner from Avalon Organics - Miximista Thickening Spray from ORIBE - Keratin Hair Fibers for Thinning Fair from XFusion, magnetized fibers that you sprinkle on in a powder
"Be proactive as soon as you notice the hair fall out," Tamika says. "Your hair is a blueprint to what could be happening internally, so hair loss is always something to pay attention to."
For more information:
Revita System by DS Laboratories
Nioxin
HairMax Laser Comb
avalonorganics.com
XFusion Keratin Hair Fibers
Rachel Gower, owner
The Upper Hand Salon
713-520-0772
theupperhand.com
Tamika Fletcher, co-owner
Natural Resources Salon
713-528-7102
naturalresourcessalon.com