Mirror/Mirror Episodes
Great No-Stress Vacation Hair Styles and DIY Saltwater Texture Spray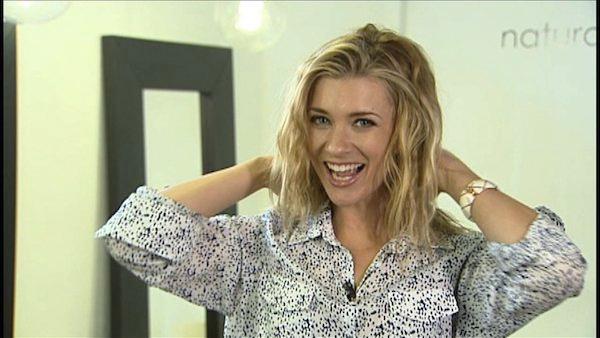 Heat, humidity, and hair don't mix, especially when we're on vacation. Here's how to do a few long-lasting, no-stress styles that will keep you looking great without too much work.
DIY Summer Curly Style
For summer time, Tamika also likes to curl the hair. Her favorite curler is the Curl Formers. They work on all hair types, but for those with textured hair, it will help the curls last much longer. 1. Make sure hair is completely dry, especially for those with textured hair because it could cause frizz.
2. Take a small section and spray a curling agent like Earth's Nectar Coconut Curls onto the hair.
3. Use the attachment that comes in the kit and slide it inside the roller. Hook the attachment to the section of hair as close to the scalp as possible and pull. The curler will attach.
4. Repeat process to entire head of hair.
5. Sleep on it or let sit for five to six hours.
6. To remove curlers, don't pull quickly. Gently slide them out of hair.
7. With fingers, twirl the curl in the same direction as curl to hold.
DIY Flat Twist Hair Style
For women like textured hair, like Shy, the summer vacation environment can be stressful. "My hair plus the beach is no fun with this," says Shy. "It's everywhere." So, Tamika Fletcher, co-owner of Natural Resources Salon, recommends a protective style. "We call styles protective because they don't require heat, don't require maintenance, and they don't require a lot of products," says Tamika. "You can wear protective styles anywhere from one week to two weeks." 1. The first step is to make a part from the front to the where you want the ponytail to end or the bun to start.
2. The next step is to separate the hair into two sections and start twisting as if it were a braid, but with two strands instead of three.
3. Twist flat to the scalp and finish the twist to the end.
4. Continue sectioning and twisting until all hair is twisted.
5. Secure ends with a rubber band.
6. Holding on to the rubber banded-ends, tuck the hair and roll it to the scalp.
7. Bobby pin at the front and back.
DIY Protective Style With Hair Piece
"My hair during vacation time needs to be up all the time because it's too much work," says Hannjah. She also has textured hair, and Tamika plans a protective style that includes a hair piece. 1. Start with purchasing a braided synthetic hair piece from the beauty supply store for about $6.
2. Brush out tangles and then cut in half.
3. Fold in half and create a fish-tail braid. Separate hair into two sections. Take a piece from the outside on one side and cross over to opposite section. Then on the other side, take a piece from the outside and cross over.
4. Repeat process until braid is complete and secure with a hair elastic.
5. Pull hair back into a high bun.
6. Take the top of the braid (the part that was folded) and hook the braid onto bun.
7. Pin the braid down to the nape of the neck.
DIY Salt Water Texture Hair Spray
For gals with fine hair like Rebecca, try sleeping on some braids. The more braids we create, the more texture we'll have. After removing braids, try this DIY Salt Water Spray to give the hair a beachy look. DIY Salt Water Spray Recipe
1 cup of hot water (not boiling)
2 tablespoons Epsom Salt (more for extra texture)
1/2 tsp Sea Salt (optional but adds stiffness)
1 teaspoon aloe vera gel
1/2 tsp of Earth's Nectar conditioner
Shake up ingredients, spritz on hair, and scrunch for a long-lasting style. For more from Tamika, visit
NaturalResourcesSalon.com.
and
EarthsNectar.com.