Mirror/Mirror Episodes
Dressed Up Hair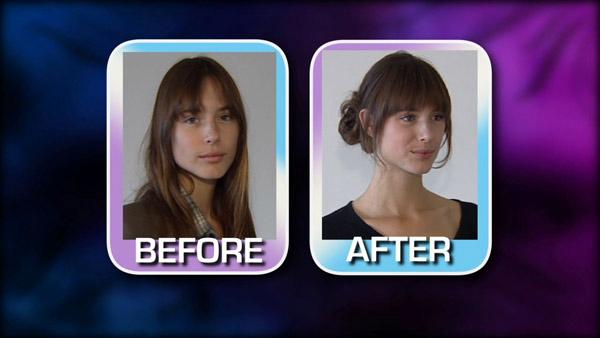 Celebrity hairstylist Harry Josh shows us how to wash-and-wear our hair in the morning to create cute styles that night.
"A lot of women stress when it comes to party hair, whether it be a big event or even a holiday season," says hairstylist and John Frieda consultant Harry Josh. But Josh says it's easier than ever to create fancy up 'dos. You just have to prep the morning of your big event.
Day Look #1:
Section your hair loosely and use a small curling iron to make tight (but not too tight) springy curls. The curls can start anywhere on your head and go in any direction. Leave your hair curly to run around all day the day of your party or event.
Night Look #1:
After your curls have loosened a bit throughout the day, gather a small ponytail at the crown of your head (just a small amount of hair, not all of it) and pull hair through a rubber band, but DO NOT pull hair all the way through the hair tie. You'll want to make a small, loose knot or bun at your crown. Then, start grabbing medium sections of the hair that's still hanging down and bobby pin the sections into the bun you just created. Grab sections and keep pinning until all of your hair is loosely secured into your original bun. For added drama, wrap a ribbon or thin piece of leather around your head and secure.
Day Look #2:
Apply a very liberal amount of mousse to the roots of your hair. If you have fine hair, apply even more, from roots to ends. Blow dry the mousse into the hair while lifting hair for volume. After the hair is dry, use a large curling iron to add bend and movement to hair. Curl large sections into large, loose waves to wear all day.
Night Look #2:
For night, gather hair near the nape of your neck, slightly off to the side and twist into a loose bun. Secure with bobby pins and/or hairspray.
For more information:
http://www.johnfrieda.com
Special thanks to the Four Seasons Hotel:
http://www.fourseasons.com