Mirror/Mirror Episodes
DIY Designer Detail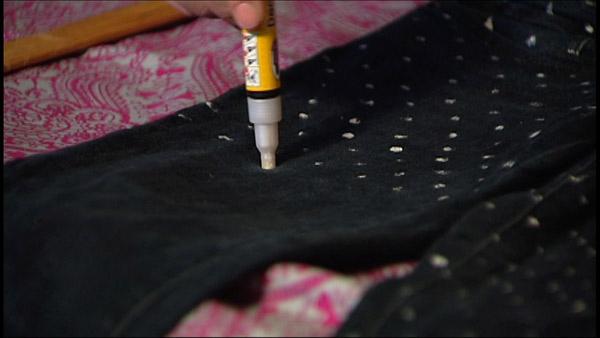 We all have those faded pants that we want to pitch, and even a t-shirt, too. But don't! Because Lifestyle Expert Kristen Hilyard shows us how to bring new life to our old clothes.
Leather Detail (Pocket)
Supplies:
T-shirt (or other old clothing item)
Faux leather fabric (or real leather, if you choose)
Scissors
Thick Needle
Upholstery Thread
How to:
Cut the appropriate size and shape of fabric.
Thread your needle and tie a knot in the end.
Start sewing your fabric onto your old clothing piece. Start on the inside of the clothing item.
After you're finished sewing, tie off the thread on the inside of the garment.
Painted Polka Dots (Pants)
Supplies:
Old pair of pants (or other clothing item)
Fabric "Paint" Pens (from craft store)
Yard Stick
How to:
Lay your pants or clothing item on a flat surface and smooth out the wrinkles.
Lay your yard stick across the garment where you'd like your dots to be.
Make dots an inch apart all the way across.
Move the yard stick down about an inch and make dots and inch apart again, BUT this time make sure the new dots are IN BETWEEN the dot you just made.
Finish the front and do the back if you want.
For more information about Kristen Hilyard visit
kristenjoy.com
.