Mirror/Mirror Episodes
Deserving Mom Whose 5 Year-Old Has Cancer Gets Makeover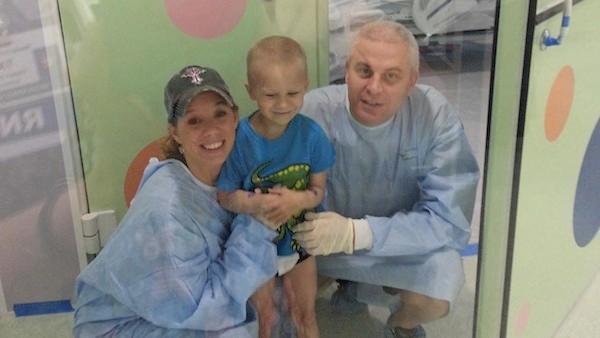 This mom of six hasn't had a moment to think about herself since her youngest son was diagnosed with cancer. She shares her story and gets a break from taking care of everyone else with some pampering and a relaxing makeover.
"Chaos, that's just part of the household I think. We have six kids," says mom Mardon Hickford."Megan is 26. She's our oldest. And then we have Cameron. He's 13. We have twins, Kate and Emma. They are 11. Ryan is 10. And Jacob is 5." "[Jake] is just your typical, normal five-year-old boy. He likes dinosaurs and he likes to play with his dog and he likes to be outside. Pretty typical other than what he's having to go through right now," she says. What he's going through is treatment for neuroblastoma, a kind of childhood cancer. Doctors diagnosed Jake when he was just four. "The moment that the word cancer was brought into the room, it was a moment where you just lose your breath. You stand there and things are coming at you and words are being spoken and you don't hear a word. I didn't hear anything," says Mardon. In a second, everything changed. "One minute we had this healthy bouncy perfect, as far as we were concerned, little boy. And the next minute, within a few days, he's in a hospital bed with tubes hooked into him and wires and he's having his first surgery and they're doing biopsies and putting a port in his chest. We were in a very different place very fast," Mardon recalls. For the last year and a half, they've been fighting cancer. Surgery after surgery, round after round of chemo, scan after scan, trial procedures and countless hospital stays. "It feels like truly we have lived appointment to appointment, and so with that in mind, you try to get what you can in between. If we've got three days we'll be at the hospital, then you have to squeeze everything in for everybody else and all of the normalcy," she says. Her best friend Sarah knows firsthand how stressed Mardon has been. "Since Jake has been diagnosed, I've seen Mardon as crazy busy, very stressed. Henry trying to balance work with appointments that he needs to go to but still having to work. Them trying to spend quality time with the other children when they're being pulled towards Jake. So, many people don't know. I had no idea until this happened, what a family goes through with a child with cancer," says Sarah. The experience has made Mardon realize the blessing of being together with her kids, but she still braces for the months and years ahead. "We've got a long, long fight ahead of us," she says. But at least for today, the staff at Avante Laser and Medi Spa and Tre Spa Salon want to give this amazing mom a little time for herself. Kalia at Avante gives Mardon a VISIA Complexion Analysis, a Laser 360 treatment, a photofacial, and Fraxel Laser Resurfacing treatment. Next, salon wwner Trey Gillen gives Mardon a cut that will take a few years off and color that's more modern and bright. Tre Spa Stylist and Makeup Artist Jessica Alston follows with fresh makeup and tips to make Mardon's eyes pop. For more from Avante Laser and Medi Spa, visit
AvanteMediSpa.com.
For more from the stylists at Tre Spa Salon,
TreSpaSalon.com.
To follow Jake's Journey, visit
JacobHickford.com
or his
facebook page.
Special thanks to
Amy Melsa Photography.