Mirror/Mirror Episodes
Depotting Eyeshadow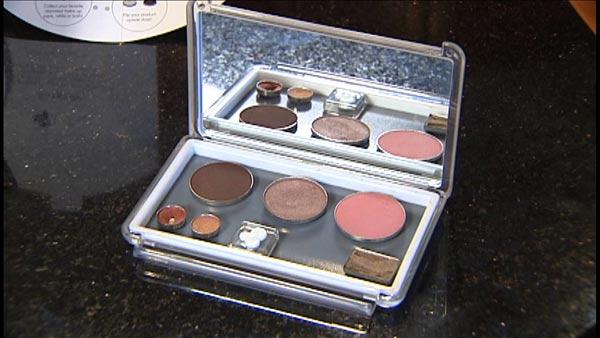 If your makeup bag is overflowing, but you don't want to trash any of your stash, try organizing to save space. This one little magnetic palette will work magic!
Makeup Artist Ashley Walsh says magnetic palettes "allow you to take all of the shadows that you like, take them out of the container and put them into one single entity."
Here's how:
First, use a sharp knife to remove the makeup from plastic outer casing.
Next, you must remove the makeup (while still in the metal disk) from the rest of the packaging.
If it's glued, use your straightening iron. Set the iron on the counter (metal plate facing up), cover with a small piece of wax paper for protection and set the makeup disk on top of the heated plate of the straightener. After 3-5 minutes, remove the makeup disk from the hot iron, let it cool for a minute and detach the makeup disk from the rest of the glued on plastic casing.
Stick all of your metal makeup disks into the magnetic palette for easy storage!
How to fix broken compact makeup:
Put the broken compact in a plastic bag
Use something small -- the bottom of a bottle, spoon, etc. -- to smash the makeup even more.
Spritz the makeup with alcohol until it's wet
Use a quarter wrapped in a napkin and press the makeup back into its metal casing
After about ten minutes the alcohol will evaporate and the powder makeup will once again be solid.
For more information:
Ashley Walsh, makeup artist
www.walshmakeup.com
Unii Cosmetics
uniicosmetics.com