Mirror/Mirror Episodes
DIY Jewelry Organization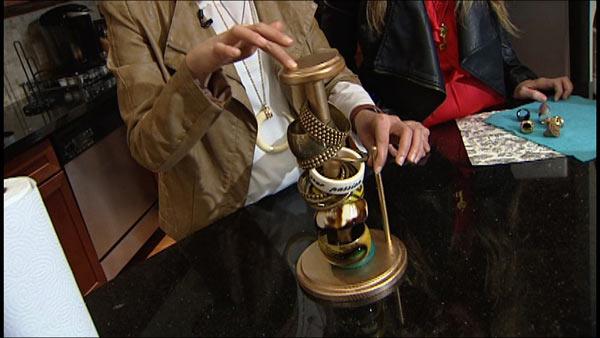 Our favorite jewelry can easily become a jumbled mess. To avoid the disarray, here are some cheap and easy DIY projects to organize your accessories!
"When I'm giving someone a tip on organizing jewelry, I tell them this: If you don't see it, you probably won't wear it," says lifestyle expert Kristen Hilyard. Since jewelry is wearable art, Kristen recommends finding a way to display it. Here are a few of her favorite projects:
Picture Frame Jewelry Holder:
You'll need:
picture frame - any size
scissors
spray adhesive
cork board
fabric
pins or thumb tacks
How to do it:
1. Start with any size picture frame. If it has a backing, cut a piece of corkboard large enough to cover the backing and glue the cork to the backing.
2. If your frame doesn't have a backing, create one with cardboard. Just cut a piece of cardboard large enough to fit the frame and then do the same as above with the corkboard.
3. Next, cover the cork board and backing with your favorite fabric and glue the edges in place on the back of the frame.
4. Last, add stick pins, corsage pins, or thumbtacks to hold your jewelry in place.
5. Prop your frame against a wall of hang it like a picture!
Paper Towel Bracelet Holder
You'll need:
wooden paper towel holder
spray paint
empty cardboard roll
pretty scrapbook paper
Mod Podge
bangle bracelets
1. Start with any old or new wooden paper towel holde and pray paint it the color of your choice.
2. Set it on the vanity or hang it on the wall to hold your bracelets!
3. If you're using a paper towel holder that grips an actual roll of paper towels, start with an empty cardboard roll and a piece of pretty scrapbook paper. Use Mod Podge (glue) to cover the cardboard roll with the paper. Let it dry for about an hour.
4. Paint the actual paper towel holder if you'd like, then hang it on the wall to your hold bracelets!
Jewelry Drawer Organization
Option 1:
Grab any ice cube tray.
Spray paint it.
Place it in your drawer and just drop your jewelry in!
Option 2:
Grab a small picture frame that fits into your drawer.
Cut a piece of felt to fit into the frame to keep your jewelry from sliding around.
Set the felt on the frame glass. Put the frame into your drawer. Arrange your jewelry on top!
Another tip: mount a towel bar on the wall and hang shower curtain hooks from it. It makes a great place to hang necklaces and bracelets. For more from Kristen, visit
kristenjoy.com.