Mirror/Mirror Episodes
Bikini Booty Workout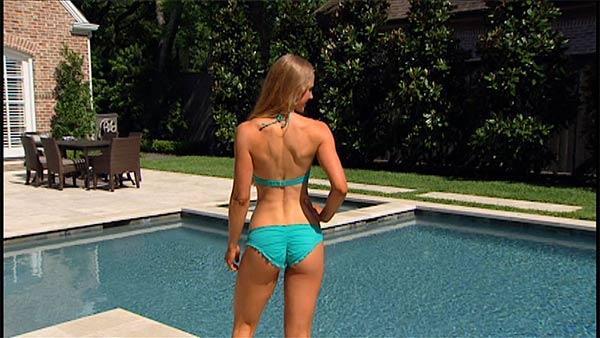 Are you ready for swimsuit season? Check out the key exercises to getting a bikini-ready behind.
Against All Odds Fitness owner Dewayne Malone says getting a toned tush is all about nutrition, cardio, and the biggest issue: proper technique during resistance training.
"Most people, when they're trying to get a nice bikini butt, they're putting all the emphasis on their quads. They're not working their glutes, and they're not activating their hamstrings, and they don't know how to activate their core," Malone says.
He recommends "muscle confusion" -- a mix of resistance (25 reps) with what he calls, "active rest," otherwise known as high-intensity cardio. Start with these example exercises:
Resistance: Squats with Band
Step on band with feet shoulder-width apart. Put hands in grips and lift arms to shoulders.
Keep chest up, sit back on heels, squeeze glutes, flex hamstrings, and sit back, as if sitting in a chair.
Maintaining the squeeze, stand up and then go right back into a squat. Dewayne says concentration is key. "Talk to muscle. Say, 'Squeeze, baby squeeze.'"
Active rest: Jump Squats
Ditch the band. Drop down into squat position, then jump to the sky.
Repeat
Resistance: Lunges
Put one leg in front of the body, and squat down so that the thigh and calf are at a right angle; knee doesn't go over the toe. Make sure not to lean forward. Instead, shift hip back and sit up until you feel the glute and hamstring and not the quadriceps.
Lunge down, and at the lowest point, contract the muscle and squeeze up.
Switch sides
Active rest: Jumping Lunges
Following the same form as a lunge, jump up and down ten times on one leg, and then ten times on the alternate leg. The lower the lunge, the better for toning your glutes.
Resistance: Sumo Squat
With feet a just wider than shoulder-width apart, point your toes out at an angle.
Now squat down, sticking your butt out as if you're sitting in a chair. Squeeze the glutes and hamstrings at the lowest point and stand.
Repeat.
Bonus Exercises:
Glute Lifts
On a mat, go down on your hands and knees.
Tighten your core, making sure yout hips are square, and lift one leg straight out.
Flex the glute and lift up and down contracting the muscle with every movement.
Switch sides
Angled Glute Lifts
Down on all fours position, keeping the core tight, lift one leg out straight at an angle to work the outside of the glute.
Then contract the muscle and cross that leg down and over the body, flexing muscle at the bottom, too.
Return the leg to its original position.
Switch sides
Parter Glute Lifts
Down on fours, keeping the core tight, lift one leg, bending it at a right angle.
Have a partner put resistance on the foot as you lift the foot to the sky, keeping your glutes tight and contracting your muscles.
Malone recommends working your glutes through resistance training every other day.
For more info:
Dewayne Malone, owner
Against All Odds Fitness
www.againstalloddsfitness.com
888-327-8510
*Purchase bands at:
www.againstalloddsfitness.com or
www.xbr360.com