Mirror/Mirror Episodes
DIY Glycerin Beauty Products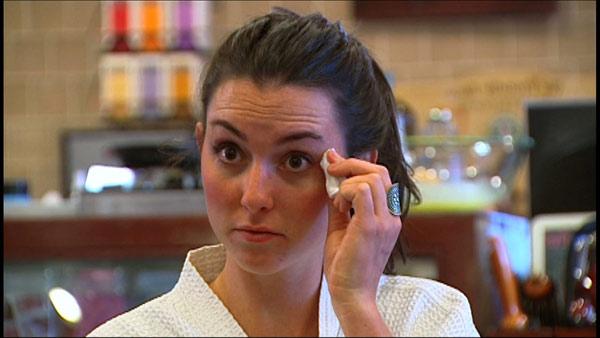 Glycerin is a popular and often pricey beauty ingredient. Find out how to save by making your own glycerin cosmetic concoctions.
Glycerin can be used at home in many ways because it's effective at breaking down oils and washing away toxins.
"It's great for sensitive skin because most people are not allergic to glycerin," says salon owner Rachel Gower.
Eye Makeup Remover Recipe:
1 part glycerin
2 parts distilled water
Combine ingredients in a spray bottle. Shake well. Dispense on a cotton pad and dab on eyes.
Homemade Toner Recipe:
6 tsp. glycerin
1/2 tsp. witch hazel
6 tsp. rose water
Combine and shake well. Wipe across face and neck.
Hand Softener Recipe:
2 egg yolks
5 Tbsp. glycerin
10 drops essential oil
3 Tbsp. coconut milk
Whisk the ingredients together. Slather all over hands. Cover hands with plastic bag and let the solution sit for about ten minutes. Then, soak hands in warm water for another few minutes and rinse off the entire mixture.
Leg Sheen Serum Recipe:
2 Tbsp. rose water
2 Tbsp. dry body oil
2 Tbsp. glycerin
A few shakes of shimmer powder and bronzer
Combine all ingredients in a squirt bottle. Shake well and rub onto legs.
Buttery Lip Balm
1 tsp coconut oil
1 tsp vitamin E
1 tsp jojoba oil
1 tsp glycerin
For this lip balm, you are going to need to do a little cooking. Melt together all ingredients in a small saucepan. If you'd like your balm to have a hint of tint, simply add a tube of your favorite lipstick, whisking it in while the concoction is still warm. Place the liquid mixture in a small container and allow it to cool overnight in the refrigerator.
Shine Sealing Conditioner Recipe:
2 tsp. glycerin
2 tsp. olive oil
3 tsp. distilled water
8 tsp. grapefruit juice
Combine the ingredients. Shake well. Shampoo your hair as normal. Condition with the glycerin mixture and rinse out.
For more information:
The Upper Hand
www.theupperhand.com
713-520-0772