Mirror/Mirror Episodes
Born Again Vintage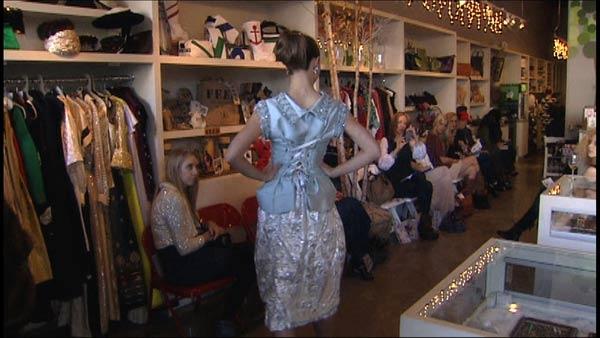 Want one-of-a-kind outfits that don't cost a lot of money? Reinvent what's already in your closet with these vintage looks.
When Bridgett Artise redesigned a few thrift store finds for a local fashion show, she didn't even know what the word "vintage" meant.
"The judge pulled me aside and was like, 'Oh, wow. You like vintage, huh?' and I'd never heard of vintage. So, I went home, Googled it and was like 'Wow!' -- not realizing every single piece I picked was vintage," she explains.
It was the birth of her Born Again Vintage line.
"Born Again Vintage is just really giving vintage or old clothes a second chance," Bridgett says. It's something that green store owners, like Sherri Eichberger, say more and more clients are looking for.
Bridgett's signature style is putting together pieces that normally wouldn't be paired together.
"I'm usually driven by the piece. So, I buy the piece because I like the texture, I like the color, I like the pattern, and then it might sit for a year. You know, because I really don't know what to do with it. Then, all of a sudden I'll buy another piece and it's like, 'Oh my God! That goes with that!' Then, it's just magic. Magic happens," she says.
It's the same sort of thing Bridgett teaches in her book.
"There are 25 demonstrations broken into five categories: four seasons and then one for prom dresses and matron of honor dresses and all those things that definitely sit in your closet and you don't know what to do with. And it gives you step by step on how to cut it, what type of seam to use, what type of thread. It literally breaks everything down for you to be able to do it yourself," she says.
Here's how to make Bridgett's Born Again Bolero:
Start with a large, outdated or men's cardigan sweater.
Shorten it to your desired length by cutting off the bottom.
Reshape the sweater by cutting from the bottom of the sweater to the neckline, along the buttons (cutting the buttons off).
Next, thread an embroidery needle.
Fold the edge you just cut under about a half an inch and start sewing! Just up and down, through the fabric. (Be sure to tie a knot in the thread before doing your first stitch)
When you get to the other side, tie another knot.
Do the same thing until all of the edges you cut are sewn under to keep them from fraying.
You're done!
For more information:
Bridgett Artise, owner
Born Again Vintage
www.b-artise.com
Check out her book, Born Again Vintage, on Amazon.
Special thanks to One Green Street