Mexico: One Plate At A Time Episodes
Tacos on Fire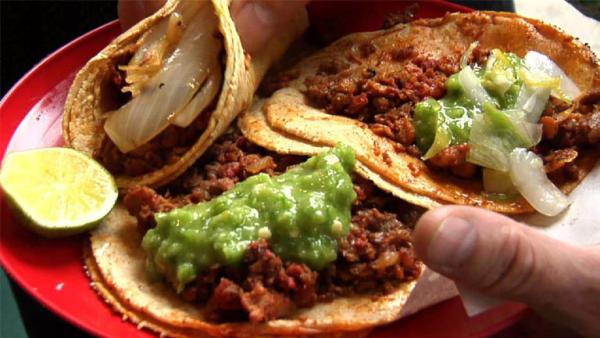 "What is a taco, anyway?" muses Rick over an upscale lobster taco at his white tablecloth restaurant, Topolobampo.
"Is it crispy or soft? Grilled or griddled? Street food or taquería fare? Fast food or fine dining?" The answer is, "all of the above and a whole lot more." And to prove it, Rick heads to Mexico City, for a non-stop taco trek. It starts at Fishmart, a neighborhood seafood restaurant in trendy Condesa with the lobster tacos that inspired Rick's Topolobampo version -- succulent chunks of grilled lobster and black beans, wrapped in a warm corn tortilla.
Following his nose, and the smell of smoldering charcoal and sizzling meat, Rick moves on to explore some taquerías -- one renowned for its char-grilled tacos al carbon and another for pork tacos al pastor, made on a revolving vertical grill, gyros-style. Here too, it's all about simplicity: a few perfect mouthfuls of mind-blowing meat and super fresh tortilla. But Rick's saved his favorite underground street-food discovery for last. Super Tacos Chupacabras is hidden away under a freeway overpass. But it's so over-the-top, and the griddled tacos and slow-cooked toppings are so tasty and cheap, everyone from VIPs to bike messengers line up all day and all night.
Back at home, Rick gets ready to throw his own "Supertacos" party with a little help from his friends. It's a laugh-filled, spontaneous celebration of cooking and fun, as everyone pitches in to make Tangy Tamarind Cooler and Mexican Snakebite, Tacos of Seared Scallops with Chorizo and Potatoes and Rick's easy version of Grilled Pork Tacos al Pastor, made right on the backyard grill.