Recipes
Roasted Tomato Shrimp Cocktail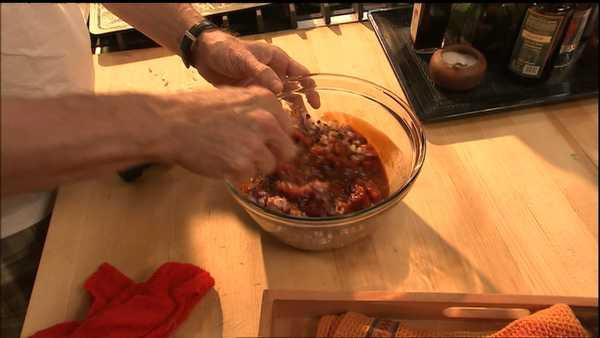 Servings: 8 as an appetizer
Provided by: Rick Bayless
1 pound tomatoes OR 1 1/2 cups canned fire-roasted diced tomatoes (preferably fire roasted), well drained (you will need about 3/4 of a 28-ounce can)
1 small red onion, sliced about 1/4-inch thick
3 garlic cloves, peeled and cut in half
1 tablespoon olive or vegetable oil
2 tablespoons balsamic or sweet sherry vinegar
2 tablespoons brown sugar
1/4 cup Tamazula hot sauce (or whichever is your favorite Mexican offering)
Salt
12 ounces cooked, peeled-and-deveined, medium-size shrimp
1 small avocado, pitted, flesh scooped from the skin and cut into 1/2-inch cubes
3 tablespoons chopped cilantro
Directions
1. Roast the tomatoes, onion and garlic. Roast the tomatoes on a rimmed baking sheet about 4 inches below a preheated broiler until soft, blackened and blistered, 5 or 6 minutes per side. Remove and let cool. Meanwhile, turn the oven to 425 degrees. On another baking sheet, drizzle the onion and garlic with the oil and toss to combine. Roast, stirring a few times, until the richly browned, about 15 minutes total. When the tomatoes are cool, pull off their blackened skins.
2. Make the sauce. Scoop the tomatoes into a food processor and pulse several times to chop them into small pieces. Scrape into a large bowl. Without washing the food processor, scoop in the onion and garlic, then pulse until coarsely chopped. Scrape in with the tomato and stir in the vinegar, brown sugar and hot sauce. Taste and season highly with salt, usually about 1 1/2 teaspoon.
3. Finish the cocktail. If you're a person that likes shrimp cocktail really cold, refrigerate the sauce until chilled. Add the shrimp, avocado and cilantro to the sauce and stir to combine. Coctel de Camaron looks beautiful served in martini glasses or little glass bowls (especially if they are nestled into a larger bowls filled with crushed ice).