Recipes
Mexican Snakebite with Tamarind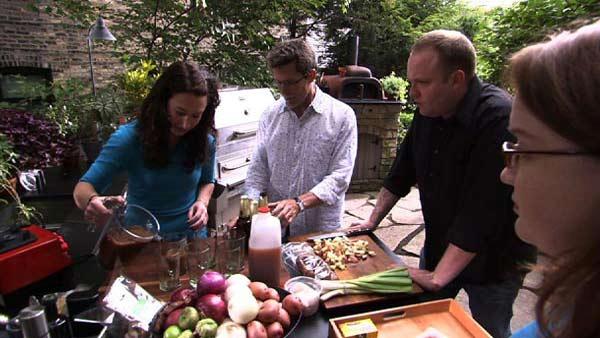 2 cups tamarind pulp (fresh or frozen)
3 1/2 cups ice-cold apple cider, preferably fresh-squeezed and unpasteurized
4 12-ounce, ice-cold, full-flavored Mexican beers (my preference is for Bohemia or Dos Equis lager)
Directions
In a blender, combine the tamarind and half of the cider. Blend to thoroughly combine. Pour into a pitcher and stir in the remaining cider. Cover and refrigerate until you're ready to serve.
When that moment comes, measure 2/3 cup of the apple cider mixture into 8 tall glasses, then slowly top off each one with half a cold beer. Serve right away.
* Tamarind Pulp
1 pound (about 16 large) fresh tamarind pods-- flexible ones with shells that flake off easily.
Hold a pod in one hand, loosen the stem with the other, then firmly pull out the stem and all the runners that trail down between the shell and pulp. Peel off the shells. In a large (4-quart), non-aluminum saucepan, bring 1 quart water to a boil. Add the tamarind, remove from the heat and let stand until completely soft -- 1 to 2 hours, depending on the freshness of the pods. Using your hand or the back of a large spoon, thoroughly dislodge the softened brown tamarind pulp from the fibrous material and seeds. Strain, discarding the solids. You should have 1 quart of tamarind pulp; if you don't, add water to reach that quantity.