Mexico: One Plate At A Time Episodes
Triple Torta-Thon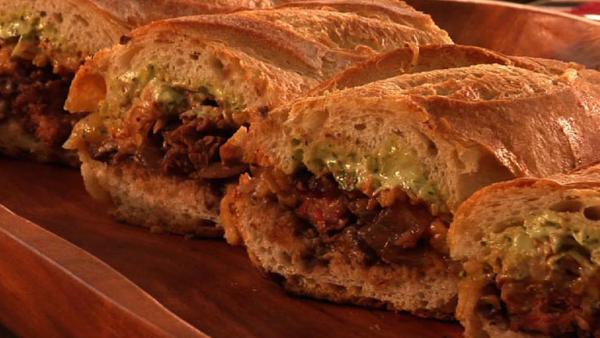 Over a breakfast of tortas -- Mexican sandwiches filled, in this case, with Rick's quick Mexican scrambled eggs, beans, and avocados -- Rick and his daughter, Lanie, plan an all-day torta marathon in Mexico City.
Their quest beings at the city's charming Sunday flea market, Lagunilla, where they check out some simple, yet mouthwatering tortas, with a succulent filling of salt cod bacalao. Next stop: Don Polo, a gleaming 1950s-style chrome and neon diner, famous for its menu of griddled tortas.
Rick and Lanie watch how they're made and try a Cubana with chorizo, pork and ham. Then it's on to El Pialadero -- The Cattle Roper -- for the famed Guadalajara specialty, Tortas Ahogadas, or "drowned" sandwiches, stuffed with juicy braised beef and smothered in a brothy tomato-oregano sauce. It's a treat so irresistibly messy that it's served with plastic gloves.
Back in Chicago, father and daughter cook up another plan: a backyard torta party for Lanie and her friends -- all prepared outdoors at the barbecue. There are Grilled Skirt Steak Tortas and Grilled Zucchini Tortas, along with an Avocado Cilantro Mayo and a Chipotle Salsa to spread on them.
In his backyard vegetable patch, Rick shares tips on growing salad greens and pairing them with various kinds of dressings. Then he and Lanie prepare two salads, Mesclun with Lime-Cilantro Dressing and Boston Lettuce with Creamy Queso Anejo Dressing to round out this casual Mexican "sandwich spread."