Mexico: One Plate At A Time Episodes
Guac on the Wild Side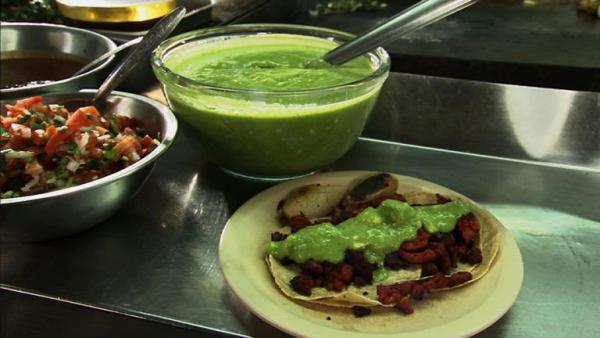 Everyone loves guacamole. And for every person you ask, there's a secret recipe and a preferred style.
In the kitchen of his Frontera Grill, Rick prepares the restaurant's classic Mexican version, an institution since the day the place opened. But is it a classic? To answer that question, Rick goes to Mexico City, where he explains that guacamole just means "avocado sauce," and shows us a series of equally time-honored interpretations of the term.
There's a smooth and creamy taco condiment at a busy taquería and, at the other end of the sauce spectrum, a chunky guacamole made in, of all things, a meat grinder, at a market stall that sells its perfect complement: succulent, crispy pork carnitas.
And speaking of texture, Rick takes us to a cool, rustic-chic restaurant near Coyoacán square for a traditional Oaxacan guacamole that gets a bit of extra protein and crunch from a surprising garnish: chile-lime toasted grasshoppers.
Back in Chicago, he gives us a quick introduction to avocado types and tips at his local Mexican grocery, and then heads home with a bagful and a very cool party: a Luxury Guacamole Bar with all kinds of toppings and nibbles to make a light meal. The centerpiece is his Roasted Garlic Guacamole, and he rounds out the spread with a refreshing Crab Salpicón, a Salpicón of Roasted Poblanos and Smoked Salmon, a tangy Orange-Tomatillo Salsa that balances the richness of the guacamole, and an array of crunchy toppings from crispy bacon bits to toasted pumpkin seeds. It all comes together at an outdoor party that raises the "bar" on guacamole in a whole new way.