Recipes
Spaghetti Squash with Tomato Sauce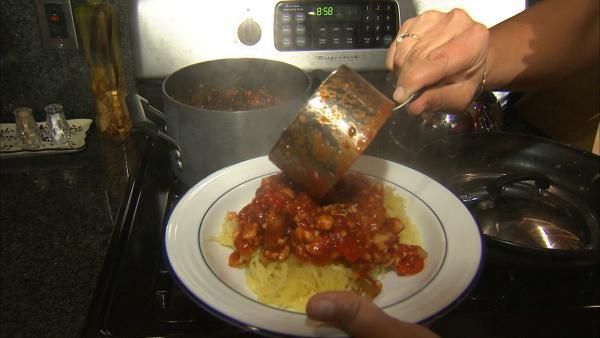 Servings: 4
Difficulty: Easy
Provided by: Ali Vincent
4-oz extra-lean ground turkey (120 calories)
1/2 cup chopped onions (29 calories)
1 cup mushrooms (42 calories)
1 cup bell peppers (40 calories)
2 cups marinara sauce (200 calories)
1 Spaghetti Squash
Basil
oregano
Directions
Spray a small frying pan with nonstick cooking spray and sauté the ground turkey, onions, mushrooms and peppers together.
Drain if needed and add to the marinara sauce.
Let simmer and blend together. Add oregano and basil to taste.
Prepare spaghetti squash in the microwave using a zip-top steamer bag. Cut the squash in half, scoop out seeds, and steam for about 5 minutes or until soft. Shred the squash into a bowl with a fork so it looks like spaghetti.
One cup spaghetti squash is 32 calories.
Serve your "spaghetti" hot, topped with your meat sauce mixture.
This recipe will serve at least 4 people. Ali always uses a measuring cup when portioning her dishes so she knows how much she is serving. An average serving is 140 calories.