Live Big with Ali Vincent Episodes
Tips for Staying Healthy During Pregnancy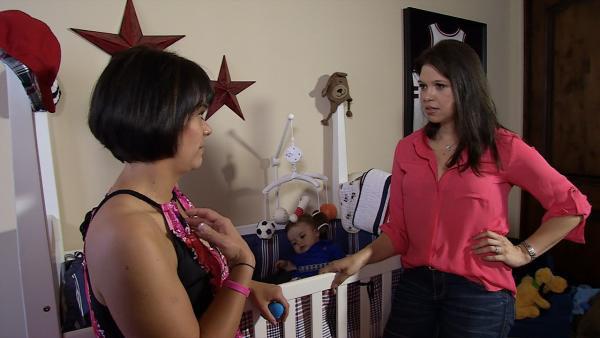 Moms are always asking Ali Vincent how to keep in shape and stay healthy while they're pregnant, so Ali went out and got some answers for all the future moms out there.
Bridgette Lewis has been on her Live Big journey for two months and it's been an emotional journey.
"I will never quit," says Bridgette.
It takes a lot of courage to change, and while changing your lifestyle is super exciting, it's also very challenging, as Bridgette found out.
It's been two months since Ali first met Bridgette and started her on her Live Big journey. She needed a lot of help in the exercise department and two months later, it was time to check in on her progress.
Bridgette makes time for everybody but herself. She's been caring for her mother for the past six years, but got the wake-up call of a lifetime.
"I'm the size of a man Ali. I knew how much I weighed but I don't think I believed how much I weighed," says Bridgette.
Bridgette knew it was time to take control of her life, and Ali was happy to help, and showed her how to get moving.
"I was really surprised, and I started doing a dance," says Bridgette.
She initially did not like the fact that Ali had her write everything she was eating down because it made her face and be responsible for what she putting in her mouth.
Writing it down brings it into the consciousness and makes you aware of the choices being made.
One of the things Bridgette realized was the importance of scheduling herself in. Before she could help anybody else, she needed to take of herself first.
Breaking a Sweat
Ali expects Bridgette to push herself when exercising, breaking a sweat to get to the next level.
"In my mind I'm saying this is what I asked for and now it's here, am I going to quit or am I going to keep going?" asks Bridgette.
She kept going and Ali kept pushing, to the point that Bridgette got annoyed with her.
"I'm thinking she's going to give me a little bit of slack, but she wouldn't. And so I had to really dig deep to see what was in there and there is no way that I am going to quit," says Bridgette.
Ali got the impression that Bridgette did not really know what a true workout entailed.
"I just never knew how to work out and so now when she says have you worked out I'll be able to give her a true answer because I thought I was working out," says Bridgette.
It was a good gauge to see where Bridgette was and for her to learn how to take it to the next level.
"I will never quit," says Bridgette.
Meet Personal Trainer Melissa
Bridgette Lewis determined to reclaim her life and get healthy. She lost 12 and half pounds, but she still needs a lot of help in the exercise department. So after putting her through a vigorous workout on the treadmill, Ali decided to surprise her with a personal trainer.
Ali knew Bridgette was going to need a trainer to push her and Melissa was going to be perfect for the job.
Melissa stepped right in and told Bridgette she would start with how to make improvements, putting her through a push-up assessment, squat assessment and then lunges.
"When I first met Melissa, I knew that she was from the east coast," says Bridgette. "She's kind of in your face, she says exactly what she means. She means exactly what she says, she does not mince words at all."
Bridgette was feeling overwhelmed. Ali could relate because when she was on the Biggest Loser, she was going for everything that she said she wanted, yet she had fears to deal with before she could let myself truly succeed.
Melissa began to instill in Bridgette a confidence that she could do it, helping her to understand her capabilities.
"Girl, you have potential through the roof," says Melissa.
Bridgette knew she had to give 100 percent and more because that's what Melissa was giving her.
Melissa used Ali's hard work and triumph on the Biggest Loser to motivate Bridgette into pushing harder than she ever thought possible.
Breaking Down Barriers
Bridgette is having the workout of her life with her new trainer Melissa. She's giving it her all, but it's definitely taking its toll.
Bridgette is working hard and begins to break down emotionally as her body continues on.
Whenever Ali sees someone crying it's good because it means they're on the verge of breaking through.
"I want this so bad," says Bridgette.
Bridgette right was feeling a lot of emotions, she was having that break through. When you're working out that hard, your emotions just start to bubble up. She was face-to-face with all that she said she wanted, but also dealing everything that she was afraid of losing.
She needed and wanted a trainer. When she was running on the treadmill with Melissa by her side, everything started rushing and coming together for her. It became overwhelming.
"So much has gone on with me taking care of my mom and the focus has really been on my mom and I really have not paid attention to myself for years in terms of exercising or eating properly or even sleeping properly, so it's a wonder you don't feel great because I'm not getting the things that I need because I'm giving so much and so for someone to actually give to me, that's what made me cry," says Bridgette.
Bridgette is where she needs to be and Ali is really proud of her. For her to come back in after having all of that come up for her and wanting to run away, but she didn't run. She turned around, she came back and she embraced it, that's what she needs to continue to Live Big.
Three things that Ali hopes you take away from Bridgette's story.
No. 1: When it comes to trainers, find one that's actually going to push you. You don't want a new best friend. You need someone who will motivate and inspire you and take you to that next level.
No. 2: Get out of your comfort zone. You never know what you're capable of until you actually get out there and do it.
No. 3: Be consistent. Doing something every day really does get results. Consistency is the key to transforming your body.
Nobody ever said living big was easy, but what I can promise you is it is worth it. So quit thinking about it, get up right now and start living. Together, we're going to Live Big!