Live Big with Ali Vincent Episodes
Pregnancy Nutrition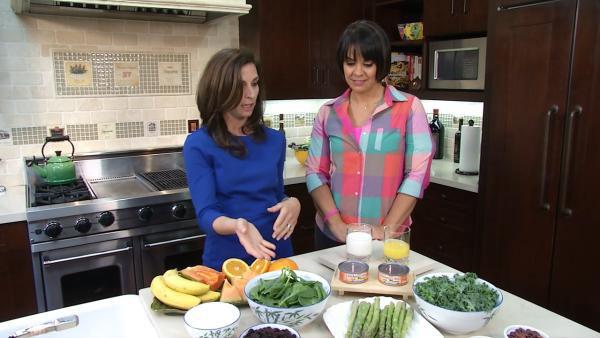 Ali visits with a registered dietician to find out what and how much pregnant women should eat.
There is a good way and a bad way to go about eating when you're pregnant and registered dietician Alicia Calvo met with Ali to sort out the differences.
During the first trimester, your calorie needs are about the same as your pre-pregnancy calorie needs, Alicia says. You only gain about two to four pounds.
During the second and the third trimester you need extra 300 calories, which really is not that much.
If you get pregnant at normal weight, an adequate weight gain would be 25 to 35 pounds. For the woman that is underweight, they need 28 to about 40 pounds of weight gain. And then the women that are overweight should try to keep it to 15 to 25 pounds.
Alicia says there can be a fear of gaining weight, but explained that you need that weight gain to ensure a healthy outcome.
A lot of foods are rich in folic acid and research shows that adequate folic acid could prevent neural tube defect by 70 percent.
Foods that are rich in folic acid are dark green leafy vegetables, like spinach, kale and asparagus. Also, legumes, lentils and beans.
It's recommended that if you're in the child-bearing years or you're planning on getting pregnant, to start taking your folic acid even before you get pregnant.
Iron deficiency anemia is one of the most common for women, period, whether pregnant or not.
Iron is in spinach and kale, just like folic acid. It's in raisins, and nuts. And although calcium needs don't increase during pregnancy, you want to ensure that you're getting enough.
Alicia says it's very important to get at least three dairies a day. Dairy can come from an 8-ounce glass of low fat or non-fat milk, a cup of Greek yogurt, which actually has a substantial amount of protein, as well.
The baby is going to get all the calcium it needs from the mother's stores. If you don't supplement, you are at risk for osteoporosis later in life.
The baby's going to take it from you regardless. So if you don't replenish, then it's your bones to be worried about, not the building of the baby.
Another concern pregnant women may have is being susceptible to food borne illness. Make sure any dairy you have is pasteurized or just avoid it if you're unsure. You want to keep your cold foods cold and your hot foods hot.
That's purely because the baby's immune system is still developing, even though you need to think of it as two different systems. And your immune system is suppressed during pregnancy.
Salmon with the bones actually is high in calcium but it also provides protein. There is some fish, those predatory fish, that you do want to stay away from because they're higher in mercury and mercury levels are associated with brain damage. So eating the smaller fishes like salmon or cod or mahi mahi have very low levels of mercury. Alicia recommends 12 ounces of fish a week or 3-4 ounces three times a week.
Make sure that you're making healthy choices, that we're not going overboard and that you're staying in a healthy lifestyle
Emphasize the nutrient rich foods on a daily basis so that you're getting all the nutrients you need and that your baby needs.