Live Big with Ali Vincent Episodes
Personal Trainer Helps Bridgette Lewis with Workout Plan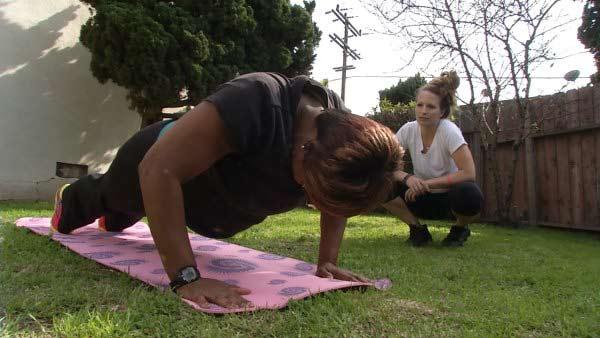 Ali Vincent introduces Bridgette Lewis, who is on the 'Live Big' weight loss plan, to her new personal trainer. The trainer will help her stay on track and continue to challenge herself.
Bridgette is determined to reclaim her life and get healthy. She lost 12 and half pounds, but she still needs a lot of help in the exercise department. So after putting her through a vigorous workout on the treadmill, Ali decided to surprise her with a personal trainer.
Ali knew Bridgette was going to need a trainer to push her and Melissa was going to be perfect for the job.
Melissa stepped right in and told Bridgette she would start with how to make improvements, putting her through a push-up assessment, squat assessment and then lunges.
"When I first met Melissa, I knew that she was from the east coast," says Bridgette. "She's kind of in your face, she says exactly what she means. She means exactly what she says, she does not mince words at all."
Bridgette was feeling overwhelmed. Ali could relate because when she was on the Biggest Loser, she was going for everything that she said she wanted, yet she had fears to deal with before she could let myself truly succeed.
Melissa began to instill in Bridgette a confidence that she could do it, helping her to understand her capabilities.
"Girl, you have potential through the roof," says Melissa.
Bridgette knew she had to give 100 percent and more because that's what Melissa was giving her.
Melissa used Ali's hard work and triumph on the Biggest Loser to motivate Bridgette into pushing harder than she ever thought possible.
For more information on Melissa visit methodmelfitness.com.