Live Big with Ali Vincent Episodes
Peggy's Story Prompts Bette-Sue's Emotional Breakthrough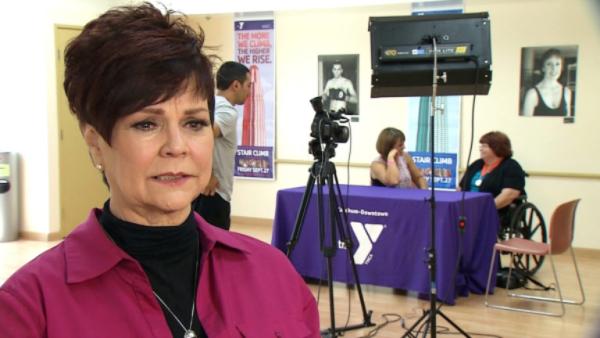 After hearing the story of a woman who took on the challenge of climbing 1,500 stairs with just one leg, Bette-Sue and Ali both become emotional about meeting their own goals and finding the confidence to live big.
When Ali Vincent became the first female winner of the Biggest Loser, her life suddenly changed. Through hard work and commitment, Ali lost an incredible amount of weight and inspired many to do the same. Now, Ali is struggling to keep the weight off. She's gained 50 pounds since winning the Biggest Loser and she's feeling devastated. So this season on Live Big with Ali Vincent, Ali is meeting inspirational people who will help her get back on track. Today, Ali and her mom Bette-Sue are at the Ketchum Downtown YMCA in Los Angeles to meet Peggy Murphy, a mother and grandmother, who lost her left leg in a car accident 37 years ago. When Ali and Bette-Sue meet Peggy, she tells them how many people doubted her abilities. Several years ago, a friend of Peggy's told her to forget her dream of traveling to Europe. "She said 'You'll never be able to do it,'" says Peggy. "She said, 'You're too heavy. You'll spend all your time sitting, waiting.' And I got mad." At the time, Peggy was 250 pounds. She decided to make her dream come true by dieting and going to the YMCA in Downtown Los Angeles to exercise. By setting a goal, Peggy lost an incredible 100 pounds and accomplished her dream of traveling throughout Europe. Ali and Bette-Sue were touched by Peggy's positive attitude. "Peggy's amazing. She gets a challenge. Someone tells her she can't, so she turns around and does," says Peggy. A year later, the YMCA was preparing for its annual fundraiser where people climb 75 flights of stairs to the top of the US Bank building, the tallest building west of the Mississippi River. To advertise the stair climb, the Y put up signs that said "Elevators are for Wimps." But when somebody called Peggy to ask if the signs offended her, she said it didn't bother her. "I said, 'Not me, I wish I could climb,'" says Peggy. "The people at the Y's eyes lit up like Christmas trees, and the next thing I knew I was training for the stair climb." In the beginning, she thought it was a crazy idea, but once she was motivated it became Peggy's focus. She trained for three months to do 1500 stairs on crutches. And in that moment, Bette-Sue gets a harsh reality check. This whole time she's been playing the victim, but meeting Peggy puts a lot of things in perspective. "How dare I be such a wimp," says Bette-Sue. At the age of 62, Peggy climbed to the top of the tallest building in Los Angeles. Every step she took was certainly a challenge, but Peggy never once quit. After hearing Peggy's stair climb experience, Bette-Sue says something she never thought she'd say before. "I want to do a climb. I do. I do. I want to a climb," says Bette-Sue. It was a Live Big first for Bette-Sue, but she's ready to put her inspiration into action. This moment was very special for Ali because it gave her mom the motivation she always needed. However, Bette-Sue isn't the only one who was inspired by Peggy. Ali admits she wants to feel strong again emotionally and physically. By meeting Peggy Murphy, both Ali and her mom Bette-Sue are feeling re-inspired to better themselves. After hearing Peggy's story, Bette-Sue has a real breakthrough that moves her to tears. In fact, she finally starts realizing she needs to stop making excuses for herself. "I have so much respect for her that I want to respect me. You know not in an egotistical sort of narcissistic way, but I want to be someone that I'm proud of, and I would just like to strive to be more like, you know, have her guts," says Bette-Sue. Over the years, Bette-Sue has been complaining about her arthritis in her knee. But today, she's feeling embarrassed while talking to Peggy. Ali wants her mom to know that she can do anything one step at a time. "Our bodies are stronger that we ever give them credit for, it is always our mind and our self-talk that stops us," says Ali. Ali then reveals her struggles she's been experiencing lately. She starts getting emotional and says she wants to feel strong again. With this new inspiration, Ali and Bette- Sue are grateful to have met Peggy. Three weeks later, Peggy is back at the US Bank Building for the YMCA's annual stair climb. She's with her 13 year-old granddaughter Cassidy Stevens, who is participating in the climb in honor of her grandmother. But Peggy has a surprise for Cassidy. She'll be there when Cassidy reaches the top of the US Bank building. However, Peggy has to climb the last four flights of stairs to get there. As Peggy arrived at the US bank building, she felt right at home. But climbing four flights of stairs really started to take a toll on Peggy. Even though Peggy was struggling, she was determined to make it to the top. When she did, Peggy waited for her granddaughter Cassidy, and once Cassidy reached the top, Peggy was thrilled to see her. "Forever in my whole life, I'll remember that Cassidy did this with me and we both climbed this building," says Peggy. Peggy Murphy is truly an inspiring woman. She believed in herself and accomplished many of her goals. This is what Living Big is all about! It's time for another Live Big group workout, and Ali has convinced mom to come along today! After meeting Peggy, Bette-Sue is motivated more than ever. She's always been on the sidelines cheering Ali on, but now it's time for her to get in on the game. But first we take a look back when Bette-Sue first hiked up the trail of Griffith Park. The old Bette-Sue would constantly whine all day but now she's promised to make an effort in honor of Peggy Murphy. Today Ali and her mom are at the Rose Bowl in Pasadena, California. They're going to do a run/walk around the entire Rose Bowl Stadium, which is equivalent to a 5k or 3.1 miles. As the walk begins, Ali notices something strange on her mother's face. Bette-Sue is wearing two pairs of glasses while walking because she says it helps her see better. Even though Ali is embarrassed, she's excited that her mom is joining her today. Bette-Sue can't keep up with Ali's pace, but she keeps going. Ali and most of the Live Big friends have reached 3.1 miles, but Bette-Sue is nowhere in sight. As the rest of the group finishes, Bette-Sue is seen walking at her own pace. In fact, she's sweating and making it happen in today's Live Big group workout. Once Ali sees her mother's umbrella, she begins to cheer really loud. The rest of the group joins in, and Bette-Sue finally finishes. Now that Bette-Sue got a great workout experience, the Live Big producer reminds her about the promise she made. But Bette-Sue says something no one saw coming. "I think I could get this walking part down for a 5K," says Bette-Sue. When Ali finds out, she's in complete shock. She always wanted to do a 5k with her mom, and now that she's promised to do one, Ali is very excited. This is a big step for Bette-Sue, but she's embracing this new attitude by challenging herself. For more information on the YMCA Stair Climb, please visit
ymcastairclimb.org.
For more information on the Rose Bowl Stadium, please visit
rosebowlstadium.com.