Live Big with Ali Vincent Episodes
Mercedes Castro Miller Hurt By Father's Rejection, Ready To 'Live Big'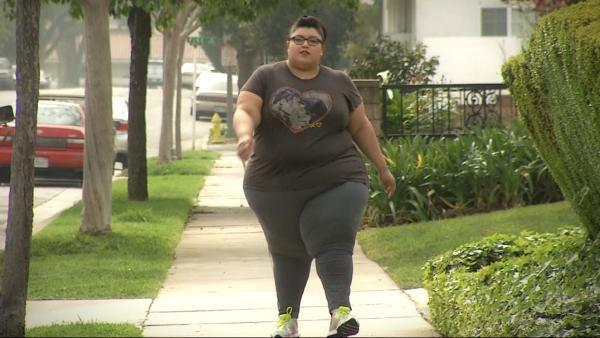 Mercedes Castro Miller has dealt with weight issues her whole life. It was an encounter with her father that made her realize her weight was a serious problem. Now, with Ali Vincent's help, Mercedes will begin her 'Live Big' journey.
Mercedes, a 30-year-old, married mother of two, weighs 410 pounds. She has been overweight her entire life. She was hurt by her father's rejection because of her size.
"He threw up and I was like what's the matter? He said seeing you so unhealthy makes me sick," says Mercedes.
Today, she is still being put down because of her size but now Mercedes is ready to 'Live Big!'
"It's like an emotional roller coaster. There's always some kind of roadblock that will remind you of this weight 'Oh, I can't go on that ride or I can't fit on that door.' I went to Disneyland the other day with my family and I could not fit through those turnstiles at all. And I had to get that disabled pass so that I could go through the other side and that was a big rock bottom," says Mercy.
Mercedes' husband, Ryan, isn't the healthiest eater. Ali suggests that she talk to him about getting onboard with her healthier lifestyle because it is important to have partner on the journey.
"I come from a family of farm people they eat fried food, you know everything is fried. Vegetables aren't really my friend. I'm not the healthiest eater," says Ryan.
Recently Mercedes has stopped doing the things she loves so Ali asked her to make a list of things she would like to accomplish if she lost the weight.
"It's sad because I can't live the life that I'm telling her to live with [my daughter]. I can't do it with her. She wants me to go on roller coasters with her. She wants me to go for a jog. She wants me to all those things and I can't do them with her. See I'm going to cry and I don't want to cry. I want to go on fun dates with my husband. We never really had a fancy honeymoon but I mean truth inside I didn't want to do that. I didn't want to you know get on a plane or anything because I don't fit on one," says Mercedes.
Mercedes hopes to go on a honeymoon with her husband and reconnect with her father after she loses the weight.
"I want to see my dad again. I didn't talk to him for a long time. His biggest issue was always my weight. My parents divorced when I was five and I think when I was around 9 or 10, I wanted to go see him and my mom put me on a plane to go see him. I was expecting a very loving dad and running into him and, 'Hi, Dad. Ya know, I miss you.' The first thing he says is, 'Damn girl, you're fat.' I didn't get a hug. I didn't get I miss you. I didn't get anything. I got you're going on a diet. I haven't talked to him since," recalls Mercedes.