Live Big with Ali Vincent Episodes
Marie Nicole Struggles to Cross the Finish Line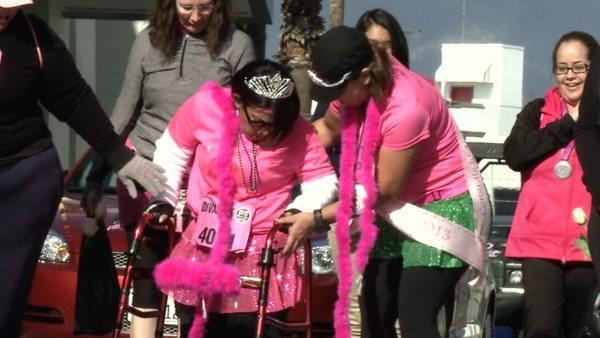 As Marie Nicole, a woman with cerebral palsy, gets a glimpse of the finish line in her first 5K, something goes wrong with her walker. Will she be able to meet her goal of finishing the race?
Today on Live Big with Ali Vincent, Marie Nicole Zimmerle, a Live Big participant, takes on an incredible challenge! And Ali Vincent, the first female winner of the Biggest Loser, is right by her side every step of the way. Marie Nicole Zimmerle has cerebral palsy and is about to attempt the physical challenge of her life. She always dreamed of doing some sort of walk and now she's ready to take on a 5k. "I don't like the person when I'm in my wheel chair. I love the person I am when I'm using my walker," says Marie. She then explains how difficult it was growing up with cerebral palsy. Since she was 4 years old, Marie was either in a wheel chair or carried by her parents. The doctors didn't believe she was going to survive past one week due to many complications but Marie proved everyone wrong. Looking back, Ali remembers the first day she met Marie Nicole. She first showed up at a Live Big group workout and then went on to participate in the Aids Walk Los Angeles. Now, Ali is helping Marie make her dream come true by taking on the Divas 5k in Ontario California. Ali was there to run the last half marathon of the year and Marie Nicole came along to support. Joining her in the race today are fellow Live Big participants Jorge Sierra, Mercedes Castro Miller, and Carmen Martinez. Before the race begins, Marie Nicole and the Live Biggers get a head start. The crowd is cheering Marie on and she's feeling excited about the race. Once Ali completes her half marathon, she's immediately thinking about Marie. Ali finally meets up with Mariea , she notices tired look on her face but Marie doesn't want to stop. "Marie is pushing herself to her limits and beyond," says Ali. "She's operating on sheer will." She's pushing through the pain when all of a sudden she catches a glimpse of the finish line. In that moment, Marie decides to walk a little bit faster. She gets the pink boa and crown that all Run Like A Diva participants get, which inspires her to keep going. But just yards from the finish line, her walker breaks. Ali helps her fix it quickly, so she can keep going. Marie crosses the finish line with her family watching, and everyone is so proud of her. "There was not a dry eye in sight," says Ali. "My whole life, my family was behind me. They said yes when the doctors said no," says Nicole, wiping her eyes at the finish line. Ali was extra inspired by Nicole's race because today, she completed her 13th half marathon today, her goal for the year. "I'm totally honored to have you as a part of our Live Big family," Ali says to Mariei. "You are the essence of what it is." Ali leads a very busy life and sometimes all she needs is to get away. She decided to do just that by spending a week at the Biggest Loser Resort at Fitness Ridge in Malibu, California. After an early morning hike on her first full day at the resort, she heads to a stretching class to loosen up. Her muscles are so sore and tight that it's painful for her to go through the stretching routine. "Stretching is hard because it hurts," says Ali. "You have to be willing to breathe through the pain." Everyone who comes to the fitness resort is required to get weighed in. Ali's first weigh in this season was difficult, but now she has come to the realization that it truly doesn't matter what she weighs, but how she feels physically and emotionally. "I don't feel like I look bad. I don't feel bad. I know I'm not as strong as I have been before, but life changes, and I know what I'm capable of," says Ali. It's been two months since her last weigh in, and after removing her shoes, she steps back on the scale. For Ali's last weigh in at Dr. Liu's office, she was 165.8 pounds. Today the scale reads 167.4 pounds. It's not where Ali really wants to be, but for the first time in years, Ali feels like she doesn't care about the number on the scale. "Why? Because I'm here. Because I'm doing something about it," says Ali. After enjoying a lunch from the kitchen at the resort, Ali heads to the pool for a swim workout. It's a challenging workout, but Ali gives it her all. After the workout, Ali reflects on her time so far at The Biggest Loser Resort. Her time here has paid off as she's gotten back on track and managed to lose a couple of pounds. Ali reminds herself to "Believe it, be it." For more information on Diva Half Marathons, visit
runlikeadiva.com.
For more information on The Biggest Loser Resort, visit
biggestloserresport.com.