Live Big with Ali Vincent Episodes
Complete Episode: LWAV1414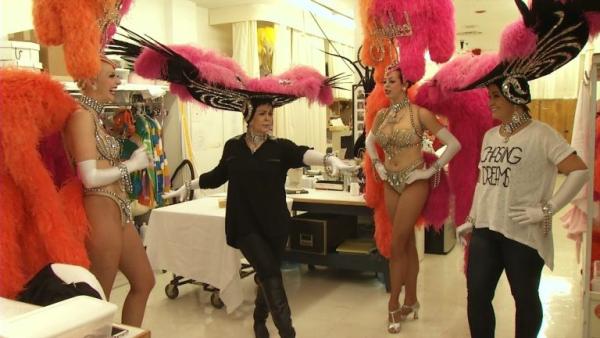 Ali Vincent and her mom, Bette-Sue, take on their most intense Live Big challenges yet: a lesson in sexy from Las Vegas showgirls and jumping off the towering Stratosphere hotel! Plus, Ali reveals her weight-loss progress with this season's final weigh-in.
Today on Live Big with Ali Vincent, Ali and her mom Bette-Sue are living big Vegas Style! Once they arrive, the ladies check in at Bally's Las Vegas Hotel. The bellhop then takes Ali and Bette-Sue to show them their room. As they start settling in, Ali decides to order room service before any challenges are thrown their way, instead of trying the buffet, where it might be difficult to eaty healthy. Ali finally orders a Caesar salad with fat free Italian dressing for herself and a California club on rye with the mayo and bacon on the side for Bette-Sue. But before getting off the phone, Ali makes adds something the producers told her to ask for. "They said 'When you place your order, order a side of inspiration.'" she says. When room service arrives, they meet their side of inspiration: Michael Ax. Michael is the room service manager at the Bally's Las Vegas Hotel. After introducing himself, Michael shares his inspirational weight loss story. Michael once weighed 490 pounds. He realized that his health was suffering and decided it was time to ask for help. "I went to our nutritionist and she turned me on to an application called my fitness pal," he says. They taught him how to count calories, and in time, Michael transformed his body. Through hard work and discipline, Michael lost over 130 pounds in the last 2 years, but it hasn't been easy. "Being surrounded by food and beverage every day has been hard," he says. "I started packing my lunch." But losing the weight has big benefits too. Even though he still has 100 pounds to go, he's seen some big changes in his life. "My mood is so much more elevated," Michael says. "I feel so good." Now that Ali and Bette-Sue are nspired, Michael tells them to head down to the Jubilee theatre around 3 p.m. for their next Live Big challenge. They have no clue what the Jubilee theater is, and they're surprised at Michael's answer: the Jubilee is where the hotel's showgirls perform. Ali is shocked and worried. "What if they make us try on some of their outfits?" she says to Bette-Sue. "I am not sexy. That's one thing I'm not." As Ali and Bette-Sue make their way towards the Jubilee theatre, Ali sees a sexy poster and is not feeling good about this challenge. "If you think I'm dressing up and prancing around you have lost your mind!" she says. She has never refused a Live Big challenge, but today Ali might just politely turn this one down. This season on Live Big, Ali has overcome a variety of physical and painful challenges. She completed an incredible 13 half marathons, bungee jumped off 130 feet in the air, and even joined a flash mob. But no matter how big the challenge, Ali always pushed through. Now, it's time for Ali to face one of her biggest fears. The Live Big producers inform Ali and Bette-Sue that the Jubilee Show girls are going to give them a lesson on being sexy. Although this challenge is a true test for Ali, she heads backstage with Bette-Sue. The ladies meet the Jubilee Show Girls in full costume and instantly fall in love with their stunning outfits. The show girls then ask Ali and her mom if they'd like to try on the hats. As they try them on, Ali and Bette-Sue learn a few show girl moves. While Bette-Sue is enjoying the entire experience, Ali is struggling with her insecurities and suddenly breaks down. She explains how difficult it is trying to feel glamorous but the show girls prove her wrong. They remind Ali that feeling beautiful inside is all that matters at the end of the day. "It's kind of hard not to feel strong and beautiful if you have your chin up," says Ali. But Ali knows she will be struggling with her confidence for some time, and although meeting showgirls was fun, she tells her producer she'd rather jump out of the stratosphere than go out on that stage as a showgirl. She immediately regrets it when her producer answers back that tomorrow, she'll be jumping off the towering Stratosphere hotel. The next day, Ali and Bette sue are afraid of their next challenge, and a Live Big producer reminds them that they really don't have to do this. "I know I don't have to do it, but I would be so mad at myself if I didn't," says Bette-Sue. But Ali is feeling a little more afraid, thinking about her bungee jumping experience at the L.A. County Fair a few months ago. "I'm scared," says Ali. "And I know I'm not going to die, but you feel like you're going to." But they both agree it's time to take risks and not be scared anymore. While Ali calms down her nerves, they check in at SkyJump for their next Live Big challenge. But suddenly they find out they can't jump together, and Ali is unsure again. "I don't want to do this again," says Ali. "I thought I was doing this with you." At first, Ali wants to go second, but as they're preparing to jump, Ali decides to jump first because she wants to be down at the bottom when Bette-Sue jumps. Now that Ali has agreed to go first, she immediately regrets her decision. She can't believe she's doing this again. As she stands out on the platform, getting ready to jump, she gets upset. "Oh, no no no no no," says Ali. "Oh my God, I can't!" It's time for another Live Big Update! Eight months ago Ali was at Dr. Liu's office and weighed in at 175 pounds. Today, Ali is weighing in again for the final time this season. She's a bit nervous as she steps on the scale, but she's pleasantly surprised by the number: 169. "Yay! I'm less than I thought," says Ali. Dr. Liu asks her what she thinks is different, and Ali says that much of it is a change in how she feels mentally. "I feel lighter, regardless of what the scale says," says Ali. "It's just been super cool to be on stage and feel liberated and say, 'I weigh this.' I think if I hadn't been in this process, I would have gotten to a point of no return." Ali thanks Dr. Liu for his help in getting here. "Thank you for helping me blossom again becuase I really do feel like this has changed my life," she says. Back at the Stratosphere hotel, before Ali decides to jump, the SkyJump instructor quickly counts her down. Ali becomes upset and tells her to slow down because she's feeling rushed. As the woman slowly counts, Ali takes a deep breath and finally she let's go and yells out, "Live Big!" Now that Ali has jumped, she realizes how silly she was acting and cheers on Bette-Sue. Unlike Ali, Bette-Sue is excited for this once in a lifetime experience. But once she takes a look down, reality starts setting in. The SkyJump instructor tells Bette-Sue to place her feet on the ledge and wait for his count. He counts her down, and without any hesitation, Bette-Sue takes the dive. Once Bette-Sue reached the bottom, Ali gives her mom a big hug. She tells Bette-Sue how much she loves her and they share a beautiful moment together. After a great SkyJump experience, Ali and Bette-Sue reflect on facing their fears. It was certainly an emotional Live Big Vegas trip but Ali and Bette-Sue realized a very valuable lesson. By having each other's support throughout this season of Live Big with Ali Vincent, they conquered their most challenging life experiences. "Living big means constantly putting myself in a place to get scared, to be uncomfortable, to move past that and do it anyway," says Ali. "I wanted to go on the Biggest Loser. I wanted to change my life because I wanted to start living my life. And I don't want to live my life by myself," says Ali to Bette-Sue. "I love doing all of this with you." "We have each other, and no matter what, no matter what happens between us, we're always there," says Bette-Sue. For more information on Bally's Las Vegas Hotel, please visit
ballyslasvegas.com
For more information on SkyJump, please visit
stratospherehotel.com.
For more information on Jubilee Show Girls, please visit
ballyslasvegas.com/shows/jubilee.html.