Live Big with Ali Vincent Episodes
Ali Works Out With Real Housewives of D.C.'s Mary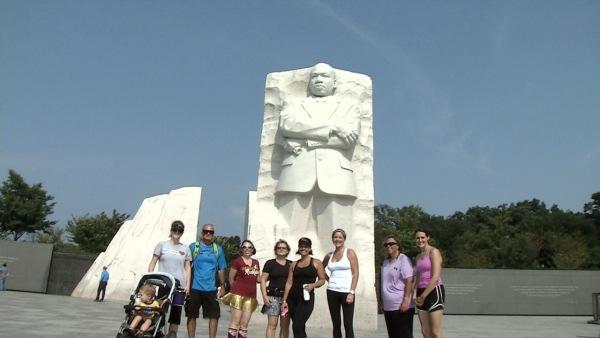 After finishing a 5K with her mom, Ali heads to the nation's capital, where she leads an inspiring group workout for some of the city's residents, including Real Housewives of D.C. star, Mary Amons.
It's a beautiful sunny day in Long Beach, California, and Ali Vincent and her mom Bette-Sue are being given another Live Big challenge. For a minute, they think they're going to be doing a 5K in the hot sun, but they're excited when they learn that they'll be riding segways instead. After getting some quick instructions on how to ride, the fun begins. Ali and her mom have a great time cruising around the lighthouse at Shoreline Aquatic Park, one of the few Live Big challenges that didn't require too much physical exertion. Bette-Sue loves her segway and is quite the speed demon while riding. "If everyone had a segway and that was the main way of transportation, from getting from point a to point b, my mom actually might get there first, for once in her life," says Ali. Next, Ali and Bette-Sue head to Newport Beach for the Susan G. Komen Race for the Cure, where they won't have the luxury of a segway to get around. When they arrive, Ali and her mom meet breast cancer survivor Deanne Brown. "Deanne was told at 44 that she actually had breast cancer, and when I heard that my heart just stopped," says Ali. "I'm not that far from 44, and I can't imagine receiving such devestating news." Deanne drew the strength to fight for her life from her kids and all that she wanted to accomplish in life. It's been over two years since Deanne was diagnosed, and since then, she's adopted a much healthier lifestyle. Today, she feels better than ever, and Ali is grateful to hear her inspiring story. This is Bette-Sue's very first 5K and although she's a little unsure of herself, Ali couldn't be happier to be walking among such inspiring women. To make the race even more meaningful, they were provided with very special bib numbers. Ali is 234 and Bette-Sue is 261: the weights when they started on The Biggest Loser. As the race begins, Bette-Sue complains about her stiff muscles, but eventually she starts to have a little more fun. She even manages to jog for a short while which comes as a pleasant surprise to Ali. The first sign of trouble during the race comes at mile number one. Bette-Sue's shoe comes untied, but she's afraid to stop and tie it because she's finally in a good walking rhythm and she doesn't want to ruin it. Ali convinces her to stop and tie the shoe, but now Bette-Sue feels like she's lost her "mojo." Ali and Bette-Sue are about halfway through the Susan G. Komen Race for the Cure. After a quick pause to tie Bette-Sue's shoe, they're off again and going strong. Bette-Sue even starts another short jog. As the crowd cheers the runners on from the sidelines, Ali and her mom approach the finish line. Ali is very excited because this is the first time that she and her mom are crossing a finish line together. Bette-Sue has realized that she's much stronger than she previously thought. Her body hurt the most right at the beginning of the race, but as she kept going, her body warmed up and she didn't feel as uncomfortable. Ali, Bette-Sue and Deanne high five each other for finishing the 5K in less than an hour. "I'm so proud of my mom," says Ali. "She set a goal and she actually accomplished it." As Bette-Sue recovers from her first 5K, Ali heads across the country to Washington, D.C. for an inspiring group workout. After putting out a message on Facebook, a small group of people met Ali at the Washington Monument, including Mary Amons from the Real Housewives of D.C. The group gets ready by doing a quick stretch, then they head off to run past the many monuments scattered around the city. They start out from the Washington Monument and head towards the Lincoln Memorial where they have a moment of self reflection as they jog up the steps. "As we go up these stairs, I really want you to be present with your thoughts and be by yourself, and just think about what are you running towards in your life and how are you increasing that and bettering yourself, and what can you leave behind because it's not working for you and you're no longer going to allow it to hold you back," says Ali. Later, they run over to the Martin Luther King Jr. Memorial, followed by a jog around the Jefferson Memorial. Running past these inspiring monuments has been a great workout for Ali and the rest of the group, but Ali is starting to get a little hungry. After they finish the run, Mary joins Ali for lunch near the National Mall. To their surprise, they find some healthy food choices at a concession stand near the Capitol Building. "It's so cool that even at a concession stand, there are some healthy choices," says Ali. Back in Los Angeles, Ali is surprised by the Live Big producers with another weigh in. Before stepping on the scale once again, Ali looks back on the many times she's weighed in this season. Her first weigh in was a wake-up call for her because she was finally able to acknowledge the fact that she's gained nearly 50 pounds since winning The Biggest Loser more than five years ago. The second weigh in was a bit of a set back because she actually put on a few pounds since the previous weigh in. The next couple weigh ins of the season produced mixed results for Ali, gaining a couple pounds here, losing a couple pounds there. Now for the current weigh in, Ali is a little uneasy at first because it's a different scale than before and she feels unprepared. "Really? I'm going to start missing my flights if this is what is going to happen every time I come into town. It's not really fair. I've been on the plane all day. I started my period last night. And it's not the same scale. It's the middle of the day. I'm wearing jeans. I've got jewelry on," says Ali. "This isn't fair." Eventually Ali steps on the scale, and it reads 166 pounds. Ali still isn't too happy with the number because she hasn't met her goal yet, but she knows that she's headed in the right direction and she is continuing to try to be more active and healthy. She is also very grateful for the support many of her fans have given her because it has helped her to keep her head up and stay positive in her Live Big journey. For more information on Segway rentals in Southern California, visit
segway.la.
To learn more about the Susan G. Komen Race for the Cure, visit
apps.komen.org/raceforthecure.