Live Big with Ali Vincent Episodes
Ali Vincent: Roller Derby Queen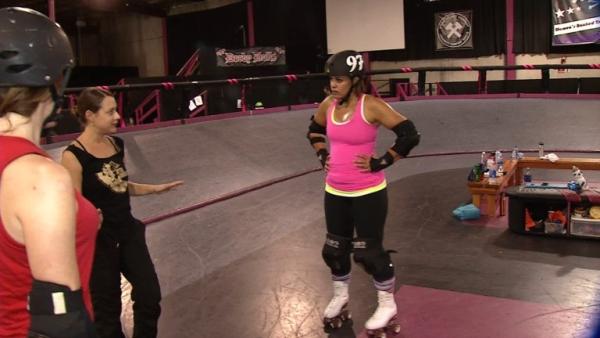 Ali's Live Big Challenge is something she's always wanted to try: roller derby! But once she gets in the ring, Ali learns that being a derby girl is a lot harder than it looks. Plus, Ali works out with a top fitness model who shares how he overcame drug addiction to become one of the industry's top bodies and get his body in incredible shape.
Ali Vincent, the first female winner of the Biggest Loser, is thrilled for today's Live Big challenge. Since Ali was a little girl, she dreamed of joining the roller derby. Now, Ali is making her Live Big dream come true by visiting the Los Angeles Derby Dolls facility with her mom Bette-Sue. When Ali and Bette-Sue arrive, they immediately fall in love with the roller derby atmosphere. Even though Bette-Sue isn't participating today, she is thinking of a cool derby name for Ali. Bette-Sue is also certain Ali will make a great Derby Doll because of her tough attitude and spunk. Once they enter the LA Derby Doll facility, Ali meets her roller derby instructor Punchy. Punchy then shares her love for the sport and gives Ali her first derby name: Lindsay-Lo Slam! Ali explains how she's always wanted to try roller derby, but didn't think she could when she was heavier, not just because of her size but because of her confidence level. "The thing with derby girls is that they're confident, and I didn't have that confidence," says Ali. "I think it's such a wonderful sport for empowering women because we have women of all different body types," says Punchy. Before getting in the rink , Ali puts in her mouth guard. "I paid too much money for my teeth not to put my guard in," says Ali. It's finally time to hit the rink, and Ali notices something strange about her skates. Everyone in the derby class has brakes on their skates except Ali. Nevertheless, Punchy begins the class by teaching them how to properly get into the rink. As Ali drops in, she experiences her first fall. She's beginning to understand that roller derby isn't as easy as it looks. The class is getting harder by the minute. Punchy then tells the women to bear crawl throughout the roller derby rink. The derby women are pushing through the pain, but Ali is getting upset. In this exercise, Ali realizes that brakes are crucial. While Ali is learning how to bear crawl, Bette-Sue sees her daughter struggling in the rink. "She doesn't have any toe pointers!" Bette-Sue yells out. "She'll be fine. I don't have any toe pointers either," says Punchy. Bette-Sue doesn't want to upset Punchy so she apologizes for asking. "Heaven knows, I don't want to upset Punchy," says Bette-Sue, jokingly. But Ali is getting frustrated because she's going so slowly without toe points. "I don't want all these girls passing me. Give me a break," says Ali. "I'd be done if I had toe points." After the bear crawl, Punchy leads the class in a stretch. Finally, Ali is relieved she can take a break, but Punchy has other plans. Ali is completely exhausted by now. At first, Ali was certain she had what it takes to be a derby doll. She was ready to take on this Live Big challenge but suddenly she becomes really sick. She can't take it anymore and Ali makes an abrupt decision. She gets out of the roller derby rink and sits on a nearby bench to catch her breath. Bette-Sue hurries over to see what's wrong. While Ali is resting, she confesses why she might be sweating so much. "I wore these stupid spanks because I have cellulite, and I didn't want my cellulite showing," says Ali. It was certainly a lesson learned for Ali to never wear spanks during a workout ever again. However, in today's Live Big challenge, Ali truly gave it her all. She fell many times in the rink but Ali always managed to get right back up. Now, Ali is getting a Live Big surprise! She is about to meet David Kimmerle, who is one of the industry's hottest fitness models. When they meet, Ali is left speechless by David's physique. He shares his weight loss journey and the struggles he had to overcome. David battled drug addiction for several years. It caused him a lot of problems until one day David decided to make a change. He started lifting weights in the gym to cope with his anger and found himself standing in as a model. Six months later, David got his first magazine cover. Today, David has over 55 magazine covers. He hopes to inspire and educate others on maintaining a healthy lifestyle. David and Ali talk together about the difference between a big initial weight loss and the reality of maintaining a healthy body. "I won the Biggest Loser, but I trained like I was competing in a fitness competition, but you can't live in training," says Ali. "I want to figure out how to feel better on a more normal scale." David talks about his own struggles with food and health. Once Ali listened to David's story, she is completely inspired and ready to take on this workout. Ali then asks David if he follows a specific routine every day. He responds by saying the ten by ten, which are essentially three exercises that you pick and repeat ten times each. Once Ali understands the ten by ten, they begin the workout. David asks Ali why she wants to workout. "Because I remember when I had triceps and I loved it," says Ali. As David is pushing Ali through an upper body workout, she is feeling the burn. He teaches Ali proper lifting techniques and she's feeling alive again. After a great lifting experience, Ali is motivated to make a big transformation. In today's Live Big surprise, Ali left feeling stronger just as she did six years ago when she won the Biggest Loser. It's definitely an exciting moment for Ali Vincent as she embarks on this new journey. "I want to be strong. I want to be independent. I want to do anything I put my mind to, and the first way I can do that is by just working on what I've got right here," says Ali. For more information on LA Derby Dolls, please visit
derbydolls.com.
For more on David Kimerle, visit
kimmerleplan.com.