Live Big with Ali Vincent Episodes
Ali Vincent Heads Home to Arizona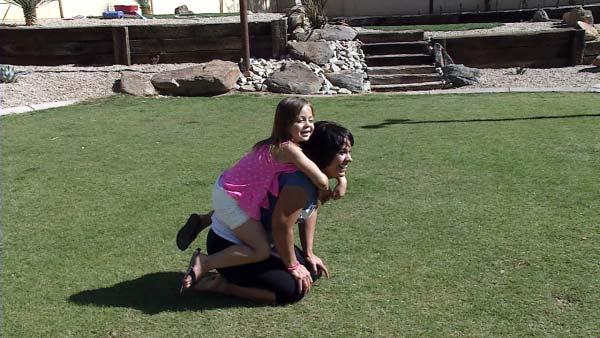 Ali Vincent and her mom Bette-Sue just finished spending an eventful week together in Los Angeles. Now it's time for Bette-Sue to head back home to Arizona, but Ali is also coming along to visit the rest of her family.
At Bob Hope Airport in Burbank, a few of their suitcases are over the weight limit so Ali and Bette-Sue scramble to reorganize their bags before getting on their flight. After landing in Phoenix, Ali and Bette-Sue get picked up at the airport by Ali's sister, Holly, and Bette-Sue's husband, Rick.
Ali heads over to Holly's house to spend time with Holly and her three kids -- daughters Avery and Macy and son Steele. After catching up with her sister, Ali goes to visit her dad John and brother Joey at the Ocotillo Golf Resort in Chandler, Arizona, where they are hosting a charity golf tournament.
On the golf course, Joey encourages Ali to take a few practice swings but she hits the golf ball straight into the water hazard!
Then, Ali makes an appearance on the Sonoran Living show on ABC15 in Phoenix, but of course, she has to get there first. On the way to the studio Ali gets a little lost, and after a couple of wrong turns Ali finally pulls into the parking lot of ABC15.
After a short wait, Ali heads inside the studio for her segment on Sonoran Living where she promotes Live Big and also her group workout at Tempe Beach Park in Tempe, Arizona.
The next day, Ali is a bit worried that people might not show up for her workout, but once she arrives at the park, Ali is relieved to see a group of people already waiting for her.
"I love the Live Big group workout because I love meeting new people. You just have all these different stories and you realize that you are not alone," said Ali.
Ali has a boot camp-style workout planned for the group with five different exercise stations. When the workout is finished, the group has a chance to hang out with Ali for a post-workout stretch and to share a few personal stories.
After the workout, Ali heads to her grandmother's house to visit her grandma Florence. Since Ali used to be a hairstylist, many of Ali's family members still get haircuts from Ali.
"Everyone knows me from the Biggest Loser but well before that I was a hairstylist. I worked at Vidal Sassoon and I loved what I did. I still do hair for my friends and family -- the ones that will not let me not do their hair," said Ali.
Ali gives her grandma a haircut and then it's time for Ali's nephew Steele's first haircut ever! As Ali trims Steele's hair she accidentally cuts her own finger, but luckily she cut herself and not Steele!
When the haircuts are finished, it's time for Ali and Bette-Sue to take a trip down memory lane. It's been five years since Ali became the first female to win The Biggest Loser so Ali and her mom head to the Mesa Arts Center where they first stood in line for The Biggest Loser casting call. As they reminisce, Ali and Bette-Sue have slightly different memories of that day and things start to get a bit ugly!
"I remember thinking what the heck am I doing here because I had no desire to go to this tryout. And, there we were. It was 5:30... it didn't even start till 10. There was a whole bunch of us... fat people standing in the line," said Bette-Sue.
Bette-Sue recalls that Ali didn't have much of a personality on that day because it was so early in the morning.
"Ali was so grouchy that morning. Let's tell the truth. She had a hangover," said Bette-Sue. "She wants to be on this show really bad and she goes out and gets wasted the night before. Who does that?"
"Because I knew that my life was changing one way or not and I was having to fully admit that I was at somewhere physically that I didn't want to be," said Ali. "I was putting myself out there and admitting that I had a huge problem."
Ali becomes more and more bothered as her mom continues to say what she thinks happened and things start to get nasty.
"We got picked because of my personality and your prettiness, just saying. You didn't have much of a personality that day. You were grumpy," said Bette-Sue.
A fun trip to remember the past turns into a full on war of words!
"She said I didn't have much of a personality and it is insulting. I have a personality but it isn't your personality," said Ali.
"I just speak what is in my mind and my heart at the time and she doesn't always agree that what I am doing is appropriate," said Bette-Sue.
The fight continues with Bette-Sue calling Ali a 'snotty little wench.' See how the fight ends next week on Live Big with Ali Vincent.
For more information:
Find Ali on Facebook: facebook.com/officialalivincent
Follow Ali on Twitter: twitter.com/alivincent