Live Big with Ali Vincent Episodes
Ali Vincent Challenges Mom to 13-Story Climb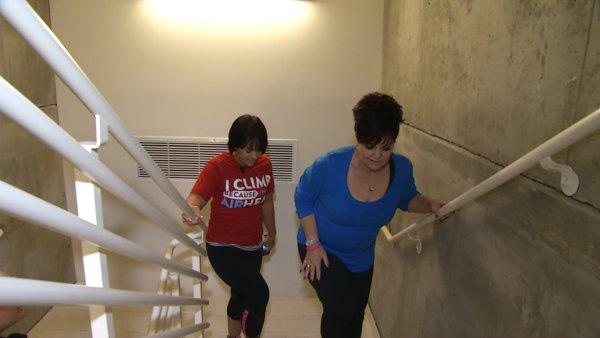 Ali Vincent completed the Fight For Air Climb, 63-story climb to the second tallest building in LA, and now it's Bette-Sue's turn to climb 13 floors.
The Fight For Air Climb is an annual event that raises money for the American Lung Association. Participants have to climb up 63 flights of stairs in the AON building, the second tallest building in Los Angeles. First responders and firefighters, who climb in full firefighting gear, partake in the event to help raise funds and challenge themselves.
Ali completed the climb in under 20 minutes with her friend, Bibi, by her side. She was hoping that her mom would participate in the challenge with her.
"I really wanted my mom to do the Aon Building climb with me but she was like 'no, we are not,'' said Ali.
Now it's time for Bette-Sue to complete a challenge of her own! Ali made a deal with her that if Ali climbed the 63 floors of the AON building, Bette-Sue would have to climb the 13 flights of stairs in the building where they are staying.
"Thirteen floors! I don't know how long it will take me but I think I can do that. The thought of them is horribly intimating," said Bette-Sue.
Bette-Sue doesn't like to climb stairs but she feels that climbing 13 floors is feasible for her. Bette-Sue does some interesting stretches to prepare for her 13-story challenge and then she starts up the stairwell.
Ali is surprised to see how fast her mom starts up the stairs, but as they get higher up the building, Bette-Sue starts to feel the burn in her legs. By the time they reach the 8th floor, Bette-Sue's heart is pounding and she's a little concerned about continuing the stair climb, but Ali encourages her to keep going.
Despite feeling tired and uncomfortable, Bette-Sue makes it to the top of the stairwell and tries to check her pulse.
Not surprisingly, her pulse is high but Bette-Sue is proud of herself for making it to the top of the building and getting her heart rate up.
Ali rewards Bette-Sue with a cake batter protein shake! Bette-Sue is a bit let down when she finds out what her reward is, but Ali assures her that it is a very tasty treat.
When Bette-Sue goes in for a taste test, she discovers that she loves it!
For more information on the Fight for Air Climb visit lung.org.
Find Ali on Facebook: facebook.com/officialalivincent
Follow Ali on Twitter: twitter.com/alivincent