Recipes
Won Ton Soup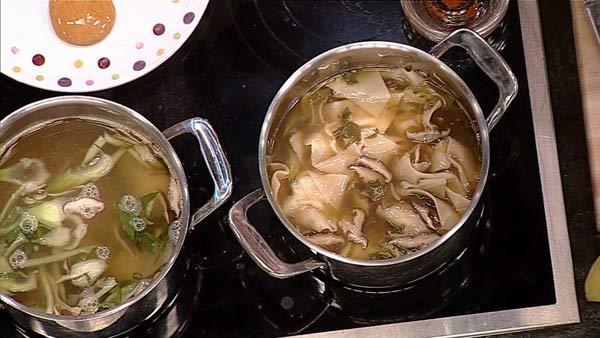 Servings: 6
Provided by: Chris Koetke
8 cups light low-sodium chicken stock or broth
2 1/2 oz. thinly sliced shiitake mushroom caps
2 baby bok choy, thinly sliced
2 teaspoons minced fresh ginger
2 Tablespoons light soy sauce
2 Tablespoons rice wine vinegar
Stuffed won tons (recipe below)
2 green onions, sliced thin on the diagonal
Directions
1. In a large pot, heat stock or broth, shiitake caps, bok choy, and ginger until it just comes to a boil.
2. Reduce heat to and simmer for 15 minutes, covered.
3. Bring back to a boil. Add soy, vinegar and wontons.
4. Cook until won tons are firm, about 5 - 7 minutes.
5. Remove from heat.
6. Ladle broth and wontons into serving bowls and garnish with green onions. Serve immediately.
Stuffed Won Tons
Makes: 24-28 wontons
Ingredients:
1/2 pound chicken breast, cut into dice
1 clove garlic, minced
1 teaspoon ginger, minced
1 green onions, minced
2 teaspoons soy sauce
1 teaspoon sesame oil
Pinch of cayenne pepper
1 package won ton wrappers
1 egg white, lightly beaten
1. Place all ingredients except wrappers and egg white in a food processor. Pulse ingredients to form a coarse mixture (do not over-mix).

2. To stuff the wontons, place a wrapper on a flat surface. Place about 1 teaspoon of filling slightly off-center toward one of the corners. Brush wrapper edge with egg white and fold wrapper over to create a triangle. Press out any trapped air from the center and seal edge tightly.
3. To store, place stuffed won tons on a tray lined with plastic wrap. Cover with plastic wrap and store in refrigerator for an hour or two until needed.
Nutrition Facts:
Amount per Serving
Calories 263
Total Fat 4g
Saturated Fat 1g
Cholesterol 22mg
Total Carbohydrates 32g
Fiber 2g
Protein 26g
Sodium 1153mg