Recipes
White Chili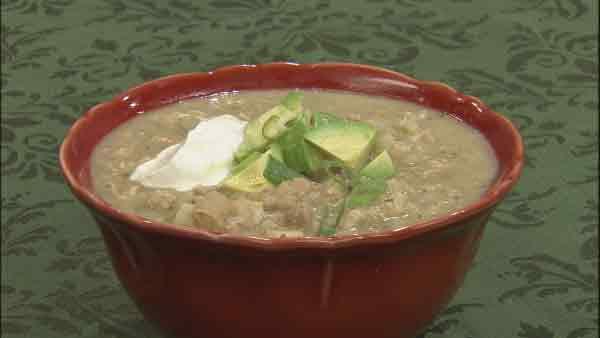 Servings: 6
Difficulty: Easy
Time:
Provided by: Chris Koetke
2 tablespoons olive oil
1 medium onion, diced
2 stalks celery, diced
2 cups peeled and diced parsnip
3 jalapeno peppers, seeded and finely diced
1 clove garlic, minced
2 teaspoons ground cumin
1 teaspoon ground coriander
1/4 teaspoon cayenne pepper
1 teaspoon salt
1/2 teaspoon pepper
1 teaspoon dried oregano
1 lb ground turkey
2 15 oz cans cannellini beans, drained and rinsed
2 cups low-sodium chicken broth
1/2 cup heavy cream
Garnishes to serve on the side: cilantro leaves, sour cream, lime segments, and tortilla chips
Directions
1. Heat oil in a stockpot over medium heat. Add the onion, celery, parsnips, and jalapeno peppers and cook, stirring occasionally, until the vegetables are soft, about 5 minutes.
2. Add the garlic, cumin, coriander, cayenne, salt, pepper and oregano and cook for another minute.
3. Add the ground turkey and cook, breaking up the meat into small pieces, until no longer pink, about 2-3 minutes.
4. Add the cannellini beans and chicken broth.
5. Bring to a boil. Reduce heat and simmer until thick, about 20-25 minutes.
6. Remove from heat and stir in the cream.
7. Serve with cilantro leaves, sour cream, lime segments, and tortilla chips.