Recipes
West African Groundnut Stew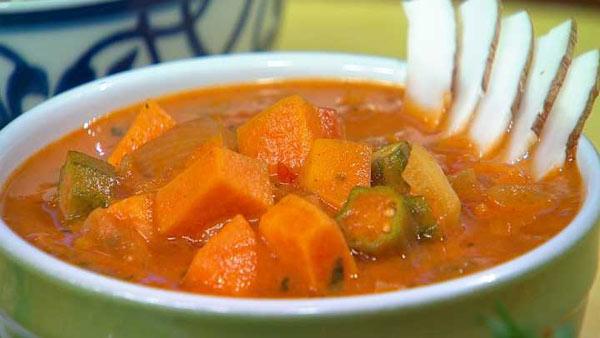 Servings: 6
Provided by: Chris Koetke
2 Tablespoons peanut or vegetable oil
2 medium onions, chopped
1 teaspoon cayenne (can add less if you don't want a spicy soup)
2 cloves garlic, minced
1 teaspoon minced fresh ginger
2 cups chopped green cabbage
3 cups diced sweet potatoes
3 cups tomato juice
1 cup low-fat coconut milk
1/2 teaspoon salt
2 chopped tomatoes
1 1/2 cups chopped okra
1/2 cup reduced-fat peanut butter
1 chopped cilantro
Additional cooked rice, chopped green onions, minced parsley, diced papaya, diced banana, chopped peanuts, and grated fresh coconut to serve on the side
Directions
1. In a large pot over medium heat, heat the oil. Cook onions until soft, about 10 minutes.
2. Stir in cayenne, garlic, and ginger. Sauté for several more minutes.
3. Add cabbage and sweet potatoes. Cook for 5 minutes covered.
4. Add tomato juice, coconut milk, salt, and tomatoes. Simmer until potatoes are tender, about 15-20 minutes. 5. Stir in okra and simmer for 5 minutes. Over low heat, add peanut butter and cilantro and heat through (if stew is too thick, add 1/4 cup water).
6. Serve with cooked rice, chopped green onions, minced parsley, diced papaya, diced banana, chopped peanuts, and grated fresh coconut to serve on the side.
Nutritional Analysis: Cals: 359, T.Fat: 21gm, S.Fat: 7gm, Chol: 0mg, Sod: 723mg, T.Carb: 37 gm, Fib: 8 gm, Pro: 10gm