Recipes
Veal Sweetbreads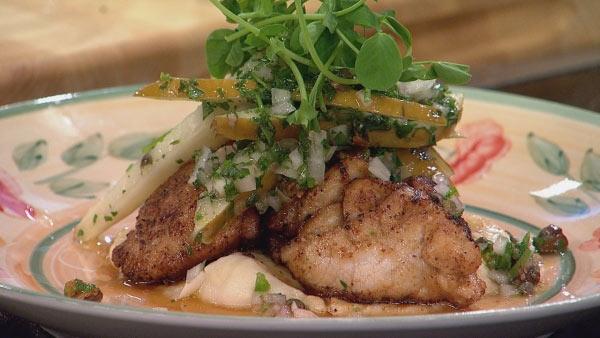 Servings: 6
Provided by: Brian Huston/The Publican
1 case of veal sweetbreads rinsed under cold water
3 quarts of cold water
2 bottles of white wine
6 large yellow onions, minced
1 large carrot sliced
1 rib celery
Large bouquet garnish
1/2 cup of salt
1 tablespoon peppercorns
Directions
1. Blanch sweetbreads for 5 minutes in court bouillon (stir sweetbreads once, halfway through cooking time to make sure sweetbreads on bottom are not overcooking).
2. Pour sweetbreads with court bouillon into ice bath.
3. Once sweetbreads are cooled, peel outer membrane and portion into 4.5 5oz. portions.
4. Sautee in medium pan with EVOO until sweetbread is lightly brown on both sides.
5. Baste with palm butter until golden brown, serve.
The sweetbreads come out tasting like chicken nuggets. You can serve with a variety of sauces (mustard, BBQ, honey) or treat them as croutons like we do at the Publican and serve them in a salad.
For puree:
3 cups whole milk
3 cups water
1 tablespoon salt
2 large celery roots (about 2 1/2 pounds total), peeled, cut into 2-inch cubes
1 medium russet potato (about 10 ounces), peeled, cut into 2-inch cubes
1 small onion, peeled, quartered
5 tablespoons butter, cut into 5 pieces
1. Bring milk, water, and salt just to boil in heavy large saucepan over high heat.
2. Add celery root cubes, potato cubes, and onion quarters; bring to boil. Reduce heat to medium and simmer until vegetables are tender, about 30 minutes.
3. Drain, discarding cooking liquid.
4. Combine vegetables and butter in processor and puree until smooth. Season to taste with salt and white pepper.
5. Celery root puree can be made 1 day ahead. Cover and chill. Re-warm in microwave before serving.
Salsa Verde:
4 shallots minced
2 tablespoons capers rinsed and chopped
5 anchovies rinsed and chopped
1/4 cup Champagne vinegar
1/4 cup EVO
1Tab honey
1/2 jalapeno minced, seeds and ribs removed
Finish with 1 tablespoon each of mint, chives, cilantro and pistachios
1 whole pear sliced
1. Mix all the ingredients into a bowl and then add the pear.
2. Assemble dish by first spooning the puree onto the center of the plate. Top celery root puree with caramelized sweetbread. Gently lay pear "salad" on top of sweetbread