Recipes
Veal Pappardelle Pasta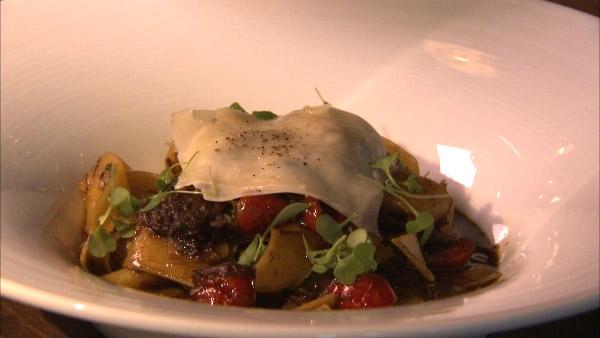 Servings: 3
Difficulty: Easy
Provided by: Jason Paskewitz of Rustic House
2-3 cleaned veal cheeks
1/2 cup each of diced celery, carrot and onion
8 cloves sliced garlic
2 sprigs fresh thyme
2 bay leaves
2 cups red wine
6 cups veal stock or beef broth
olive oil
1 cup Pappardelle pasta
Chopped Parsley
Whole Butter
Oven Dried tomatoes to taste
Parmigiano cheese to taste
Directions
VEAL PREP
1. Season veal cheeks with salt and pepper, sear well on both sides in a heavy bottom rondeau in olive oil. Remove veal and set aside.
2. Add carrot, onion, celery, and garlic and caramelize well.
3. Add, thyme and bay leaf.
4. Add red wine and reduce by half.
5. Add veal stock< bring to a boil and remove from heat.
6. Cover the rondeau and place in a 325 degree oven for 2 hours.
7. Remove veal cheeks and set aside, strain liquid, degrease and reduce by half. Set liquid aside.
DISH PREP
1. In a small saute pan, saute 1 tsp chopped garlic in evoo, add picked pieces of the braised veal cheek and 6oz of the braising liquid.
2. Reduce by half.
3. Toss in 1 cup of cooked pappardelle pasta.
4. Finish with chopped parsley, whole butter, oven dried tomatoes and Parmigiano cheese.
5. Serve in a large pasta bowl.
For more information on Rustic House, check out www.rustichousechicago.com.