Recipes
Tongue Tacos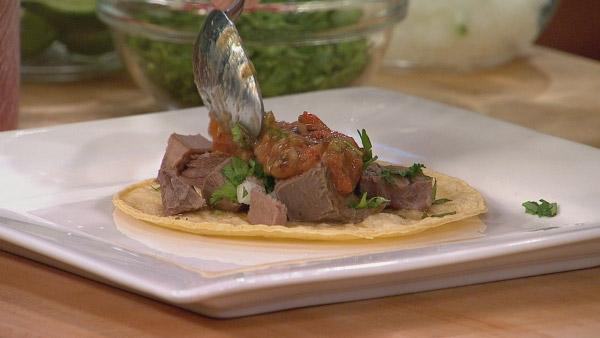 Servings: 4
Difficulty: Moderate
Time:
Provided by: Chris Koetke
1 raw beef tongue
Water to cover (about 3 quarts)
1 large onion, diced
2 stalks celery, diced
8 cloves garlic, smashed
1 1/2 Tablespoons dried oregano
1 Tablespoon salt
1 Tablespoon whole black peppercorns
1 bay leaf
2 teaspoons ground cumin
1/4 cup cider vinegar
Directions
1. Combine tongue, water (enough to cover), onion, celery, garlic, oregano, salt, peppercorns, bay leaf, cumin, and vinegar in a large pot. Bring to a boil, reduce to a simmer, and cook for 2.5 to 3 hours or until the tongue is very tender. (The tongue is done when you can insert a paring knife and withdraw it effortlessly.)
2. Remove the tongue from the liquid and let cool. When it is cool enough to handle, remove the skin and the gristle and fat from the base of the tongue. Dice up the remaining meat. Cover the diced meat with some of the cooking liquid. Taste the cooking liquid to be sure that it is sufficiently seasoned. (The remainder of the broth can be used to make soup.) The tongue can be stored in the refrigerator and reheated in the broth when needed.
3. To make the final tacos, heat the tortillas in a sturdy sauté pan without any oil over moderate heat. Place tongue on the tacos and serve with onion, cilantro, lime, and salsa.
Serve with the tacos -- Tortillas, diced onion, minced cilantro, lime segments, quick salsa
** To many, this sounds a bit unusual. The reality is though, that tongue tacos are very popular in Mexico and in my opinion, make the best tacos. The reason is simple. Tongue meat, when cooked for a long enough time, is incredibly tender, moist, and flavorful. If you are a bit skittish about the tongue part, rest assured, it is a muscle just like a pot roast or a steak.