Recipes
Tomato Basil Frittata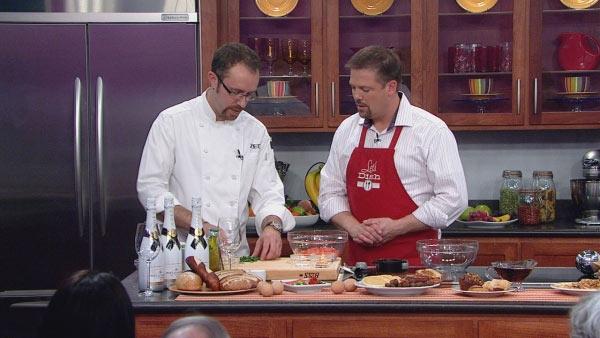 Custard
13 eggs
1 1/2 cup whole milk
1/2 tsp Salt
1/2 tsp black pepper
Directions
1. Combine eggs, cream and salt and pepper in mixing bowl whisk thoroughly, reserve
Tomato Mixture
Ingredients:
1 qt Roma tomato dice 1/8", seeds removed
2Tbsp Basil fresh minced
2 Tbsp Orange fresh minced
1/2 cup Extra Virgin Olive Oil -
1/2 tsp Salt
1/2 tsp black pepper
1. Place all ingredients in mixing bowl and mix thoroughly, reserve
Per Each Staub (Small Cast Iron Pot)
Ingredients:
4 oz egg custard
2 tbsp tomato mixture
1 1/2 teaspoon Parmesan cheese shredded
Arugula Salad
Ingredients:
6-10 leaves arugula
1 tsp extra virgin Olive Oil
1 tsp lemon fresh juice
Pinch each of salt and pepper
1. Place all ingredients, except salad in the staub and place in pre heated 350 degree oven for 15 min.
2. Remove from oven garnish with arugula salad serve immediately.
Nutritional Analysis: Cals: 251, T.Fat: 17gm, S.Fat: 6gm, Chol: 470mg, Sodium: 655mg, Carb: 6gm, Fiber: 1gm, Pro: 18gm