Recipes
Tandoori Chicken Naan Sandwiches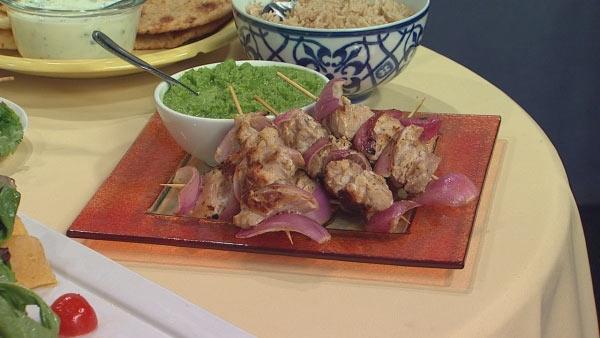 2 lbs. boneless, skinless chicken thighs, trimmed of external fat and cut into 6-8 pieces
2/3 cup plain yogurt
2 tablespoons lemon juice
1 tablespoon minced garlic
1 1/2 Tablespoons peeled and minced fresh ginger
2 teaspoons ground cumin
1 teaspoon ground coriander
1/4 teaspoon ground cayenne
1/4 teaspoon ground cardamom
1/4 teaspoon fresh-ground black pepper
1 teaspoon salt
1 small red onion, cut into quarters and divided into individual pieces
10 6-inch wooden skewers soaked in water for several hours
Pan spray
Directions
1. Combine yogurt, lemon juice, garlic, ginger, cumin, coriander, cayenne, cardamom, black pepper, and salt. Add chicken, mix, cover and place in refrigerator overnight to 24 hours.
2. Remove chicken from marinade and thread onto skewers, alternating with piece of red onion.
3. Spray with pan spray and grill over high heat until cooked through.
4. Serve with all the ingredients below for delicious sandwiches with a side of basmati rice.
Serve with:
Cilantro leaves
Green onions
Sliced cucumber
Diced tomato
Lime quarters
Hot sauce
Cilantro coconut chutney (recipe below)
Yogurt Raita (recipe below)
Basmati Rice (recipe below)
Grilled vegetable skewers seasoned lightly with salt and curry powder
5 Naan, warmed
Nutritional Analysis: Cals: 232, T.Fat: 5gm, S.Fat: 1gm, Chol: 107mg, Sodium: 560mg, Carb: 37 gm, Fiber: 2gm, Pro: 48gm
Cilantro Coconut Chutney
Yields 2 Cups Ingredients:
4 cups loosely packed fresh cilantro leaves
¾ cup unsweetened shredded dried coconut (if using sweetened coconut, eliminate the honey from the recipe)
1 teaspoon salt
½ teaspoon ground cumin
1 jalapeño, seeds removed
2 tablespoons honey
¼ cup fresh lime juice
¾ cup water
1. Place all of the ingredients in a blender or food processor and blend until well pureed.
2. Serve cool or at room temperature. Will keep fresh for 1 day in the refrigerator.
Nutritional Analysis: Cals: 44, T.Fat: 4gm, S.Fat: 3gm, Chol: 0mg, Sodium: 119mg, Carb: 2 gm, Fiber: 1gm, Pro: Tr gm
Yogurt Raita
Yields 1 1/2 Cups, Serves 5
Ingredients:
1 cup no-fat plain yogurt
2 teaspoons lemon juice
1/2 cup finely diced cucumber
Pinch ground cumin
1. Combine ingredients Nutritional Analysis: Cals: 27, T.Fat: TR gm, S.Fat: TR gm, Chol: 1mg, Sodium: 35mg, Carb: 4 gm, Fiber: TR gm, Pro: 3gm
Basmati Rice
Serves 5 Ingredients:
1 Tablespoon olive oil
1/2 cup finely diced onion
1 clove minced garlic
3/4 teaspoon ground cinnamon
3/4 teaspoon ground cumin
3/4 teaspoon ground ginger
1 1/2 cups basmati rice
3 cups water
1/4 teaspoon salt
1. In a saucepan, sauté onion in olive oil until softened but not browned. Add garlic and cook for 2 more minutes. Add cinnamon, cumin, and ginger and cook just until the spices are fragrant.
2. Add rice, water and salt. Bring to a boil, reduce heat to a simmer and cover. Cook for 15 minutes. After 15 minutes, remove from heat and taste. If it needs to cook a bit more, simply replace the lid and let stand for several minutes.
Nutritional Analysis: Cals: 219, T.Fat: 4gm, S.Fat: TR gm, Chol: 0mg, Sodium: 148mg, Carb: 40 gm, Fiber: 1gm, Pro: 5gm