Recipes
Sweet Potato Gratin with Gruyere and Bacon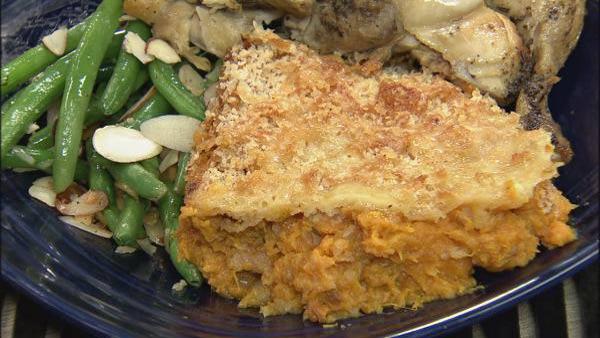 Difficulty: Easy
Time:
Provided by: Chef Chris Koetke
2 1/2 lbs sweet potatoes (4-6 depending on the size)
4 oz. bacon, cut into small dice
2 Tablespoons butter
1 cup minced onion
2 teaspoons minced fresh rosemary
3/4 teaspoon salt
1/2 teaspoon ground black pepper
2 1/4 cups grated Gruyere cheese
3/4 cup milk
3/4 cup panko breadcrumbs
Directions
1. Place the sweet potatoes on a baking sheet and roast in a 350 degrees F oven for about 2 hours or until they are very soft. This step can be done 1 day ahead of time and the sweet potatoes can be refrigerated until needed.
2. In a small sauté pan, cook bacon until lightly browned.
3. Add butter, onions, and rosemary and continue cooking until the onions are soft. When done, remove from heat and reserve.
4. Peel the sweet potatoes and place the flesh in a large bowl. Mash the sweet potatoes with a fork.
5. Add sautéed onion and bacon mixture, salt, black pepper, 3/4 cup cheese, and milk to the sweet potatoes. Mix well.
6. Pour into a 9 x 9 baking dish. Top with remaining 1 1/2 cups cheese and panko breadcrumbs.
7. Bake in a 400 degrees F oven for about 60 minutes, or until well browned and hot.