Recipes
Stromboli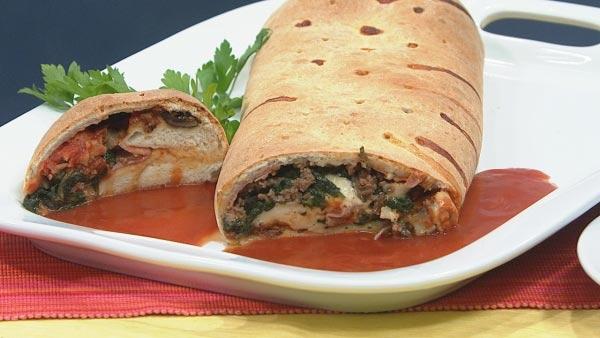 Servings: 10-12
Difficulty: Moderate
Time:
Provided by: Chris Koetke
5 Tablespoons olive oil
1/2 cup onion, diced
2 cups portabello mushroom, diced
1 teaspoon Italian seasoning
1/2 teaspoon chile flakes
4 cloves minced fresh garlic
8 oz. baby spinach
1 pound lean ground beef
8 oz. low-sodium smoked ham slices
2 lbs. frozen pizza dough, thawed
All purpose flour for rolling out dough
1 cup prepared pizza sauce
1 1/2 cups shredded mozzarella cheese
3 cups of your favorite high-quality tomato sauce, heated
Directions
1. Preheat oven to 400 degree oven.
2. In a large saute pan over high heat, add 3 Tablespoons olive oil. Once the oil is hot, add onions and portabellos and saut3 for 5 minutes or until onions are translucent and the mushrooms softened.
3. Stir in Italian seasoning, chile flake, and minced garlic. Cook an additional minute.
4. Add spinach and cook until the spinach is softened and any juice in the pan has evaporated. Remove from pan and let cool.
5. In the same sauté pan, crumble the ground beef and saute until cooked through. Season with black pepper as it cooks. Remove from pan, drain excess fat, and let cool.
6. On a lightly floured surface, roll out pizza dough to and 15" X 15" square.
7. Spread the dough with the prepared pizza sauce, leaving a 1 1/2-inch border of dough. Add a layer of ham, followed by ground beef, cheese, and spinach mixture.
8. Brush the edges with water. Then, starting at the bottom, roll up the dough into a tight cylinder shape. Fold the sides under and place on a baking sheet of parchment paper. Make sure that the long seam of the roll is on the bottom. Poke about 15 holes in the top of the dough to allow steam to escape. Brush with the 2 Tablespoons of remaining olive oil.
9. Place in the preheated oven. Bake for 35-40 minutes or until the dough is crispy and browned and the insides are bubbling out the holes of the dough. Remove from oven and let cool before slicing. It can also be cooled and reheated when needed -- or eaten cold.
10. Serve with hot tomato sauce.