Recipes
Stout Short Ribs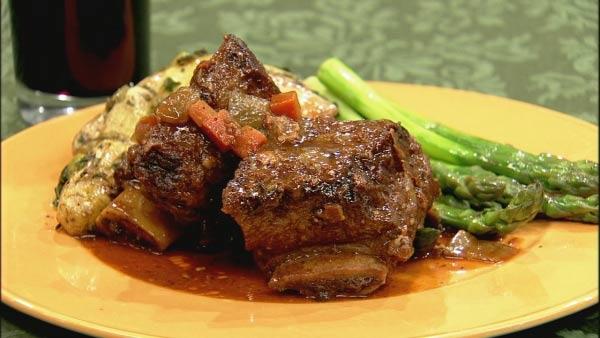 Servings: 6
Difficulty: Moderate
Time:
Provided by: Chris Koetke
8 lbs. meaty beef short ribs (this should be about 12 individual ribs), seasoned lightly with salt and black pepper
2 Tablespoons vegetable oil
3 cups onions, cut into large dice
3 cups carrots, cut into large dice
8 oz. bacon, diced
6 oz. can tomato paste
2 bottles stout
2 bay leaves
1 teaspoon dried thyme leaf
2 1/2 teaspoons salt
1 1/2 teaspoons ground black pepper
1 cup beef broth
2 Tablespoons cornstarch mixed with 1/4 cup cold water
Directions
1. Preheat oven to 325 degrees F.
2. Heat oil in a large heavy duty pot over high heat.
3. Once the oil is hot, carefully place the ribs into the pot. (It will most likely be necessary to brown the ribs in batches.) Brown all sides of the ribs, and once browned, remove from the pan.
4. Add onions, carrots, and bacon to the pan. Continue cooking, stirring frequently until the onions, carrots, and bacon are soft and brown around the edges, about 8 minutes.
5. Add tomato paste and continue cooking for another several minutes.
6. Add the ribs back into the pan along with the stout, bay leaves, thyme, salt, pepper and broth. The liquid should pretty much cover the ribs. If not, add a bit more broth or water.
7. Bring to a boil, remove from heat, cover, and place in the oven.
8. Cook for 3-3 ½ hours or until the ribs are fork tender.
9. Remove from the oven and place on a medium high burner on the stove. Remove the ribs.
10. Once the liquid is boiling, skim excess fat with a large spoon or ladle. Add cornstarch/water mixture, stirring constantly. Bring to a boil. If it is not thick enough, more cornstarch/water mixture can be added. Taste for seasoning.
11. Return the ribs to the liquid, bring back to a boil, and serve.