Recipes
Steamed Fish In Spicy Lime Sauce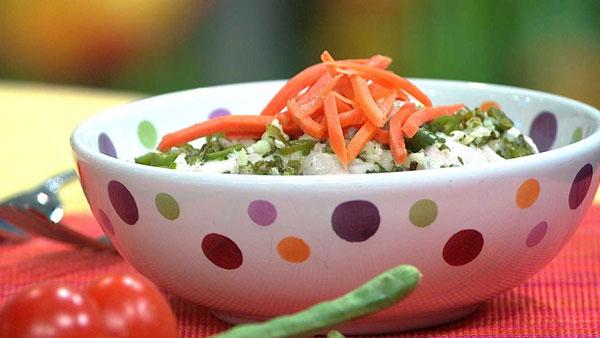 Servings: 4
Provided by: Chef Chachaya
1 lb. thinly sliced Chinese cabbage
3/4 c. finely cut julienne of carrot
4 5 oz. portions of sea bass, cut into thin slices and slightly fanned out
10 cloves garlic, minced
3 T. cilantro leaves, minced
1/3 c. lime juice
1/4 c. Thai fish sauce
3 T. sugar
8 Thai chilies, thinly sliced
Lime slices and additional cilantro leaves for garnish
Directions
Note: This amount of chilies will make a VERY hot dish. While it is traditional, it may be wise to reduce this amount if you don't like very hot food. If you can't find Thai chilies, you can substitute 2-3 Serrano chilies.
1. Blanch cabbage and carrots in boiling salted water for a couple of minutes. Remove from water and run cold water over it until it is cold. Squeeze to remove excess water.
2. In a bowl, combine garlic, cilantro leaves, lime juice, fish sauce, sugar, and chilies.
3. Place cabbage and carrots in individual bowls. Top with fish. Pour above mixture over the fish and cabbage.
4. Prepare a stove-top steamer by boiling water in a roasting pan. Place a roasting rack over the water so that the water is below it. It may be necessary to prop up the rack using metal cup measuring cups. Place the bowls on the rack and cover the rack with aluminum foil or a lid. Steam until the fish is tender (about 8 minutes).
5. When the fish is cooked through, remove from the steamer and garnish with lime and cilantro leaves.
Nutritional Analysis: Cal: 301, TFat: 6gm, Sat F: 1gm, Chol: 60mg, Sod: 191mg, TCho: 34gm, Fib: 4gm, Pro: 31gm