Recipes
Steak and Tomato Salad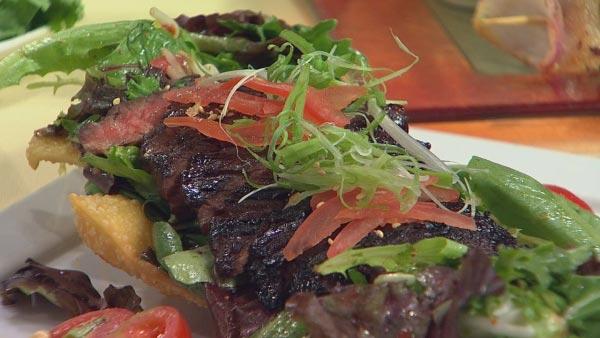 5oz Skirt steak (recipe for marinade below)
2oz Bean sprouts, pickled
6 Cherry tomatoes, cut in half
5oz Mixed Greens
1 Wonton sheets, fried
2 Green onions julienne
2 Plum tomatoes julienne
Salt to taste
Pepper to taste
2 tbs Lime juice
2 tbs Thai dressing (recipe below)
Directions
1. In a mixing bowl combine the mixed greens, bean sprouts, cherry tomatoes with lime juice and vinaigrette.
2. On a very hot grill, oil and clean the grill with a towel and Grill the skirt steak for roughly 6-8 minutes on each side. Or until medium rare or desired temperature.
3. Allow the meat to rest on a cutting board for 2 minutes.
4. Slice the meat against the natural grain of the meat to ensure tenderness.
5. Place the mixed greens mixture on top of the sheet of wontons.
6. Place the pre sliced skirt steak on top of the salad.
7. Garnish with Green onions and plum tomatoes.
Marinade for Skirt Steak
Ingredients:
2 tbs sweet soy sauce
1/2 tsp lemon grass oil
1/2 tsp chili oil
Kosher salt to taste
1. Combine all the ingredients in a mixing bowl and add salt to taste. You're looking for a sweet salty balance.
Thai Vinaigrette
Ingredients:
2 tbsp honey
3 tbsp sambal
6 tbsp vegetable oil
2 tbsp sugar
1 tsp white sesame seeds
2 tsp garlic minced
1 tbsp fish sauce
1. Combine all the ingredients in a mixing bowl. Mix them thoroughly and chill and hold for service.
Nutritional Analysis: Cals: 483, T.Fat: 27gm, S.Fat: 7gm, Chol: 73mg, Sodium: 442mg, Carb: 33 gm, Fiber: 5gm, Pro: 32gm