Recipes
Stacked Veggie Enchiladas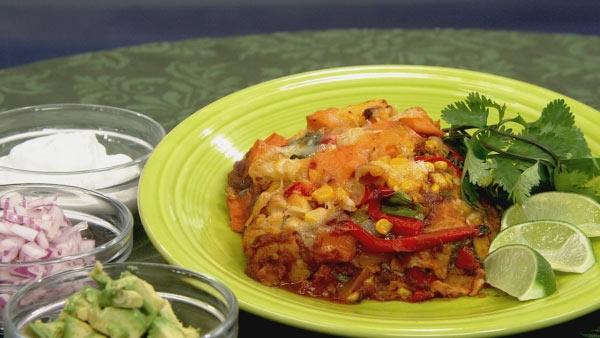 Servings: 8
Difficulty: Easy
Time:
Provided by: Jessica Grelle
2 organic red bell peppers, finely chopped
1 head of cauliflower, cut into small pieces
1 organic sweet potato, peeled and cubed
1 yellow onion, chopped
1 cup corn, frozen
2 T olive oil
1 1/2 tsp cumin, ground
2 garlic cloves, minced
1/2 cup cilantro, chopped
2 cups Mama Jess Bien Good Enchilada Sauce
8 ounces baby spinach
6-8 whole wheat tortillas, 8 inch diameter
1 cup cheddar cheese, low fat or 2%, shredded
1 cup swiss cheese, shredded
Directions
1. Preheat oven to 425 degrees F. In a large roasting pan, toss peppers, cauliflower, sweet potato, onion, corn and olive oil. Season with a pinch of salt and pepper. Roast 35 to 40 minutes, turning every 15 minutes.
2. Remove roasted vegetables, reduce oven temperature to 350 degrees F.
3. Spray a 9 x13 glass baking dish with non-stick spray. In a small bowl, stir cilantro into the 2 cups of Mama Jess Bien Good Sauce. Spread 1/3 cup of sauce onto bottom of baking dish.
4. Start your layers: add two tortillas to bottom (they do not need to cover entire bottom of dish). Spread 1/3 of roasted veggies on top, 1/3 of spinach and 1/3 of the shredded cheese mixture. Make a second layer starting with tortilla, then Bien Good, veggies, spinach and cheese. Repeat one more time. Cover with aluminum foil.
5. Bake for 20 minutes. Remove the foil and bake for an additional 10 minutes. Let sit for 5 minutes and cut and serve with toppings.
Optional Toppings: Avocado Slices, Cilantro, Diced Red Onion, Greek Yogurt
For more information on Mama Jess, her recipes and organic sauces, check out www.mamajess.com.