Recipes
Spiced Molasses Bread with Warm Applesauce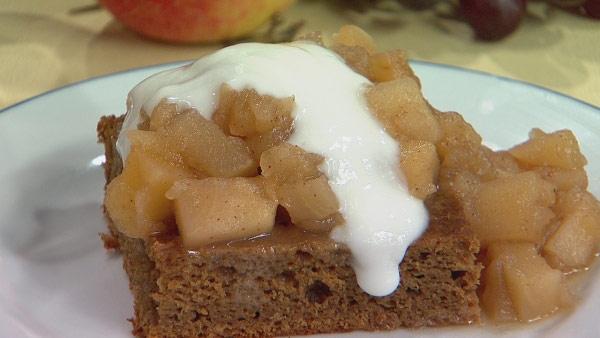 1 cup all-purpose flour
1 cup whole wheat flour
1/2 teaspoon baking soda
3/4 teaspoon baking powder
1 teaspoon ground cinnamon
1 teaspoon ground ginger
1/2 teaspoon ground cloves
1/8 teaspoon salt
1/2 cup unsalted butter, softened
1/4 cup packed dark brown sugar
1/2 cup dark apple butter
1/2 cup blackstrap molasses
2 eggs
1 cup very strong coffee (can be decaf)
Warm applesauce (see below)
2 cups vanilla fat-free yogurt
Directions
1. Combine flours, baking soda, baking powder, cinnamon, ginger, cloves, and salt. Reserve.
2. In a mixer with a paddle attachment, beat butter and brown sugar until lightened. Add apple butter and molasses and mix until incorporated. Add eggs and mix. Add coffee and mix. 3. Add dry ingredients and mix until they are incorporated.
4. Pour into a greased 9" x 13" non-stick pan. Bake in a 350F oven for about 30 minutes or until it is springy to the touch. Remove from oven and let cool.
5. Serve with warm applesauce topped with yogurt.
Nutritional Analysis: Cals: 213, T.Fat: 7gm, S.Fat: 4gm, Chol: 45mg, Sodium: 122mg, Carb: 34gm, Fiber: 1gm, Pro: 4gm
Applesauce
Ingredients:
15 apples, peeled, cored, and diced
1 cup light brown sugar
1 cup water
4 teaspoon sugar
1. Place everything in a pan and bring to a boil, stirring frequently. Reduce heat and simmer until the apples are soft.
2. Crush apples lightly using a potato masher. Be sure to keep them chunky. Taste for sweetness and add more sugar if necessary.
Nutritional Analysis: Cals: 114, T.Fat: TR gm, S.Fat: Tr gm, Chol: 0mg, Sodium: 4mg, Carb: 30gm, Fiber: 2gm, Pro: TR gm