Recipes
Spaetzle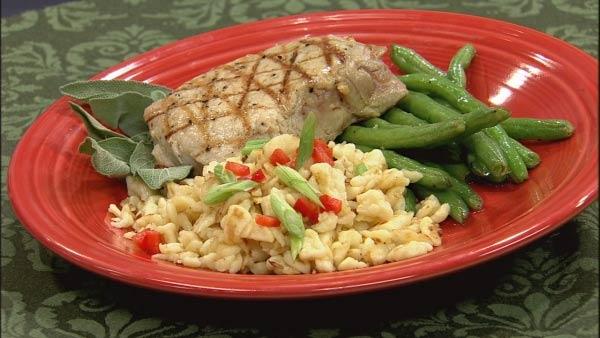 Servings: 4
Difficulty: Moderate
Time:
Provided by: Chris Koetke
2 eggs
1 1/2 cups flour
1/2 cup milk
1/2 teaspoon salt
Several pinches nutmeg
2 Tablespoons olive oil
1 1/2 Tablespoons butter
1/2 cup minced onion
1/8 teaspoon salt
1/8 teaspoon ground pepper
Directions
1. In a bowl, whisk eggs. Add flour, milk, 1/2 teaspoon salt, and nutmeg.
2. Add flour and stir just until combined and slightly elastic.
3. Place the dough in a colander and using a rubber spatula, press the dough through the holes and into a pot of lightly salted boiling water.
4. Cook for 4-5 minutes or until the dough rises to the surface of the water and solidifies. Remove from the water and place into cold water. Once the spaetzles are cold, remove them from the water and drain. At this point, they can be prepared a day ahead of time and refrigerated until needed.
5. When ready to serve, sauté onions in 1 Tablespoon of olive oil. When they are cooked through and lightly browned, remove them from the pan. Put remaining olive oil and butter in the pan and sauté the spaetzles until they are hot and lightly browned. Add the cooked onions to them along with the 1/8 teaspoon each of salt and pepper. Serve hot.