Recipes
Southwestern Pot Roast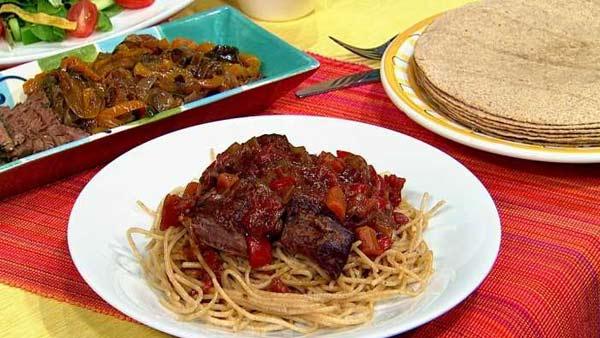 Servings: 6
Provided by: Chris Koetke
2 3/4 lb chuck roast (cut about 2 inches thick) seasoned with 1 teaspoon salt
2 Tablespoons olive oil
2 3/4 cups thinly sliced red onion
3/4 cup diced carrot
1/2 cup diced celery
1 red pepper, diced
4 cloves garlic, chopped
1 Tablespoon chile powder
1 1/2 teaspoons chipotle powder
1 1/2 cups low sodium, low fat beef broth
1 14.5 oz. can of diced tomatoes with green chilies
1 Tablespoon dried oregano leaf
1 bay leaf
1 Tablespoon cornstarch dissolved in 2 Tablespoons cold water
Directions
1. In a large pot over high heat, brown beef on all sides in 1 Tablespoon oil. When well browned, remove from pot.

2. Add remaining 1 Tablespoon oil, red onion, carrot, celery, and red pepper to pot. Sauté until browned lightly (6-8 minutes). Add garlic and cook for 3 more minutes. Add chile powder and chipotle powder. Cook for about 1 minute or until the chile becomes fragrant.
3. Add broth, can of diced tomatoes, oregano, bay leaf, and browned beef. Bring to a boil; reduce to a simmer, and cover. Cook for 3-4 hours at a low simmer or until the beef is fork tender.
4. Remove beef. Skim the remaining liquid very well to remove all fat. Bring to a boil. Pour in cornstarch and water stirring constantly. It may be helpful to add half first, bring to a boil, and see if the sauce is thick enough. If it is not, add remaining cornstarch and water.
5. Serve the beef and sauce with whole wheat noodles.
Nutritional Analysis: Cal: 413, T.Fat: 26g, Sat. fat: 10g, Chol: 87mg, Sod: 560mg, T. Carb: 15g, T. Fiber: 3g, Pro: 29g