Recipes
Southwestern Beef Wellington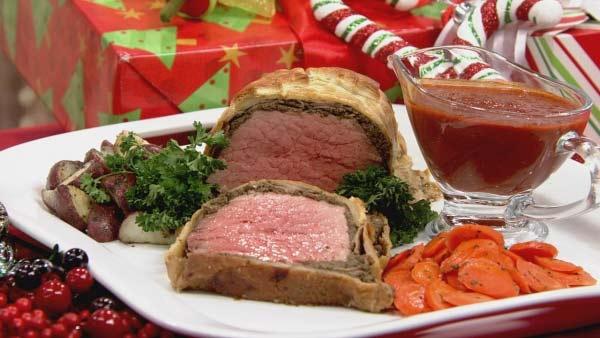 Servings: 6
Difficulty: Hard
Time:
Provided by: Chris Koetke
3 Tablespoons olive oil
3/4 cup minced onions
2 poblano chilies, minced
1 pound button mushrooms, minced*
4 oz. shitake mushrooms, minced*
4 oz. portabello mushrooms, minced*
1 teaspoon chile ancho powder
3/4 teaspoon salt
1/2 teaspoon black pepper
Directions
1. In a large saute pan over moderate heat, sauté onions and poblano chilies in oil until they are soft (about 5 minutes).
2. Add finely minced mushrooms, chile ancho powder, salt, and black pepper. Continue cooking until the mushrooms have released their water and the mixture has become dry and paste-like. This will take a good 10 minutes.
3. Remove from the sauté pan and let cool.
*It is easiest to grind the mushrooms in a food processor. If cut by hand, be sure that they are truly finely minced.
Assembling the Dish:
3 pound piece of beef tenderloin**, cleaned of all fat and sinew
1 teaspoon salt
1 teaspoon chile powder
1/2 teaspoon ground cumin
3 Tablespoons olive oil
4 oz. thinly sliced smoked ham
2 sheets of puff pastry, thawed, but still very cold (17.3 oz.)
1 egg beaten with 1 Tablespoon water
1. Season beef with salt, chile powder, and cumin.
2. In a very hot, large sauté pan, sear the beef in olive oil until all sides are browned.
3. Remove beef from pan and let cool.
4. On a floured surface, roll out puff pastry sheets slightly to make a rectangle that is about 2-3 inches larger on each side of the beef. Place one sheet in the refrigerator until needed.
5. Layer ham on the remaining puff pastry sheet in an area that is the same size as the beef. Top the ham with about 1/4 of the mushroom mixture.
6. Place beef on the mushroom mixture. Coat the beef with the remainder of the mushroom mixture. Layer ham on top of the mushroom mixture so that the beef is totally encased by ham.
7. Fold up the sides of the puff pastry around the beef. Brush with egg wash.
8. Place the extra sheet of rolled out puff pastry on top of the beef, pressing it around the beef so that it overlaps the previous sheet of puff pastry. Press the 2 sheets of puff pastry tightly against each other.
9. Place beef on a well greased baking sheet or ideally on a silicon baking sheet on a baking tray.
10. Brush top with egg wash.
11. Bake in a 425 degree F oven for 40 minutes. Remove from oven, and poke with an instant read thermometer. The final temperature should be 120 degree F. At this point, it will probably take more cooking time (even as much as 55 minutes depending on the oven). If it is not done, return to oven and re-test every 5 or so minutes.
12. After it is done and removed from the oven, let it sit for 15 minutes before serving.
13. Transfer to a serving dish using 2 large spatulas. If some of the dough sticks to the spatulas when removing it from the baking sheet, do not worry as the dough on the top should be perfect.
14. Slice and serve with red pepper sauce (below).
**Be sure to purchase the center, or thick part of the tenderloin. If it is from the thin end of the tenderloin, it will not work as well is it will be the wrong shape. Be sure to ask your butcher.
Red Pepper Sauce:
1 Tablespoon olive oil
1/4 cup diced onions
1 garlic clove, minced
1 15 oz. jar roasted red peppers, well drained and chopped
1 cup red wine
1/4 teaspoon cumin
1/4 teaspoon chile ancho powder
2 cups beef broth
Salt to taste
1. In a medium saucepan, sauté onions in olive oil until they are softened (about 5 minutes).
2. Add garlic and sauté for another minute.
3. Add red peppers, red wine, cumin, and chile ancho powder. Bring to a boil and keep boiling until the red wine has reduced by about ¾ (meaning that ¾ of it will have evaporated).
4. Add beef both. Bring to a boil. Reduce heat and simmer for several minutes.
5. Place the sauce in a blender. Note: The sauce is very hot at this point and it is important to exercise blender safety. Do not fill the blender more than half way. If it is necessary to blend in batches, this is fine. Cover the top of the blender with a sturdy towel and hold the towel on the top of the blender. Process on low speed initially until smooth. Taste for seasoning.