Recipes
Som Tum (Spicy Green Papaya Salad)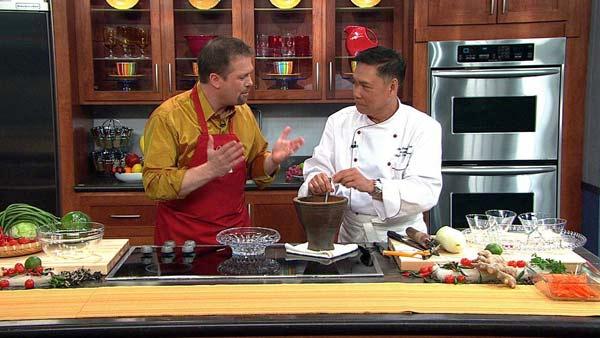 Servings: 4
Provided by: Arun Sampanthavivat
1T. Dried shrimp
2 pcs. Garlic
1-2 pcs. Thai hot chilies
1 T. Roasted peanuts
2 pcs. Long beans, cut 1? long
1 T. Palm sugar
2 T. Fish sauce
2 T. Tamarind juice
To taste Lime juice
2 c. Green papaya, shredded
8 pcs. Cherry tomatoes, halved
Directions
1. Pound dried shrimp and crush garlic and Thai hot chilies in earthen mortar with pestle; then, add roasted peanuts; followed by long beans. (Bruise all the ingredients by pounding on them very gently).
2. Season with palm sugar, fish sauce, tamarind and lime juices to taste.
3. Add shredded green papaya and halved cherry tomatoes. Gently bruise them by tossing thoroughly.
4. Serve with fresh vegetables.
Nutritional Analysis: Cal: 102, TFat: 3gm, Sat F: 1gm, Chol: 5mg, Sod: 31mg, TCho: 18gm, Fib: 3gm, Pro: 3gm